Red Coral Orgone Pyramid with Obsidian Sphere (60mm) Handmade Energy Healing Orgonite
$28.05

FREE Shipping
Please allow up to 30-40 days shipping time as this item will ship to you directly from our supplier.
In stock
Free shipping on orders over $100! (US orders only)
Safe, Fully Encrypted Payments
100% Money-Back Guarantee
Fast, Reliable Shipping Options
Easy Exchanges & Returns
Improve Your Mind, Body, and Spirit With This Red Coral Orgone Pyramid
Introducing the Red Coral Orgone Pyramid with Obsidian Sphere (60mm) Handmade Energy Healing Orgonite – the perfect combination of natural stones and crystals that will help you harness positive energy and enhance your spiritual journey. Here are some reasons why you need this unique pyramid in your life.
Enhance Vitality and Energy
The Red Coral Orgone Pyramid is known for its ability to enhance vitality and energy levels. It helps to boost your immune system, stimulate blood circulation, and improve overall physical health. The obsidian sphere in the pyramid helps to release negative energy and promote emotional well-being, providing a perfect balance of mind, body, and spirit.
Amplify Spiritual Growth
The combination of red coral and obsidian creates a powerful energy that amplifies spiritual growth and helps you connect with your higher self. It enhances intuition, expands consciousness, and opens the path to enlightenment. With this orgonite pyramid, you can elevate your meditation practice and deepen your spiritual journey.
Handmade and Unique
The Red Coral Orgone Pyramid with Obsidian Sphere (60mm) is handmade with the utmost care and attention to detail. Each pyramid is unique and one-of-a-kind, making it a truly special addition to your collection. Its vibrant color and intricate design make it a stunning display piece that will enhance any room.
Item Weight: 

200g

Item Height: 

6cm

Item Width: 

6cm

Item Length: 

6cm

Product Features: 

HANDMADE

Material: 

Obsidian Sphere, Red Coral, Sunflower Silver Circle, Copper, Resin, and Love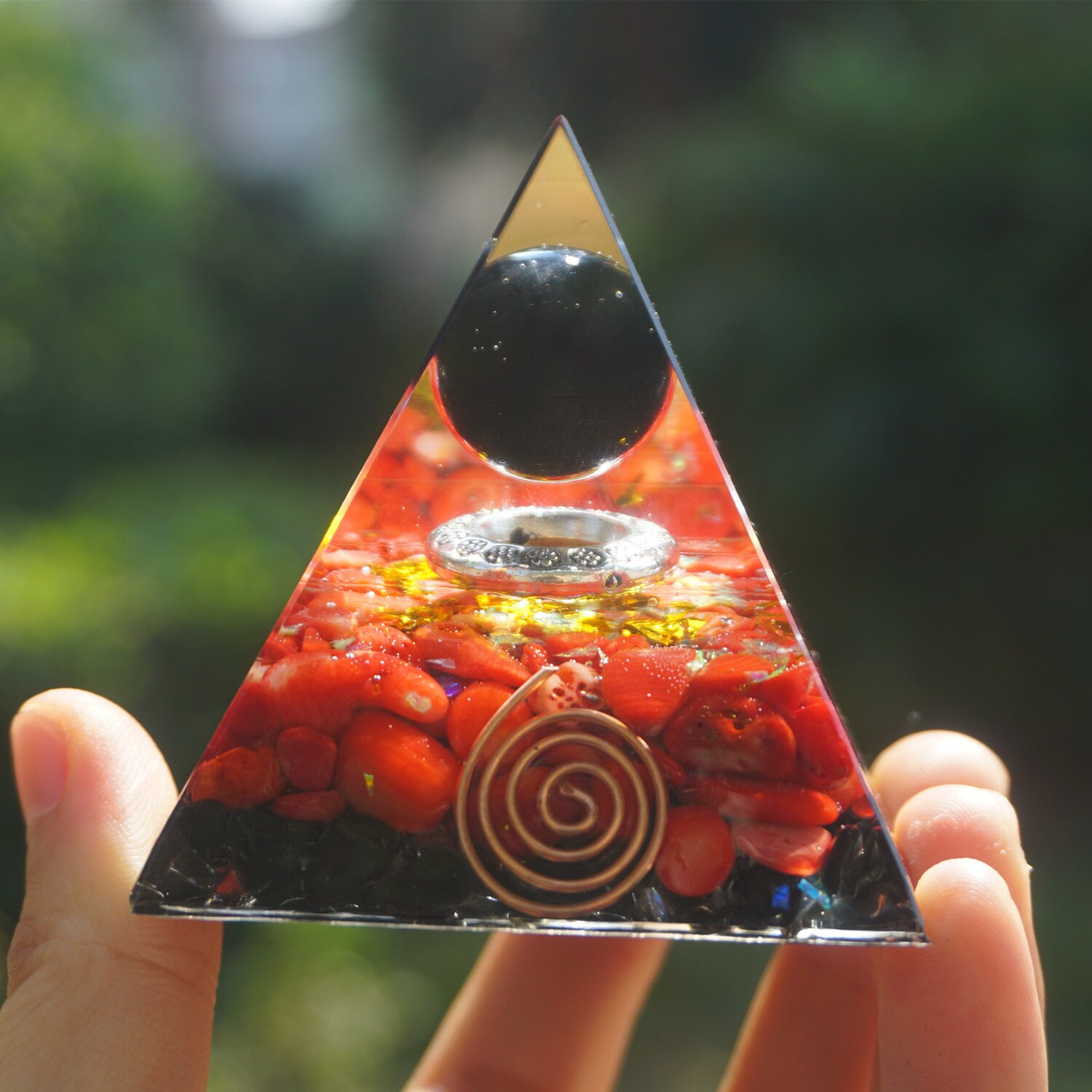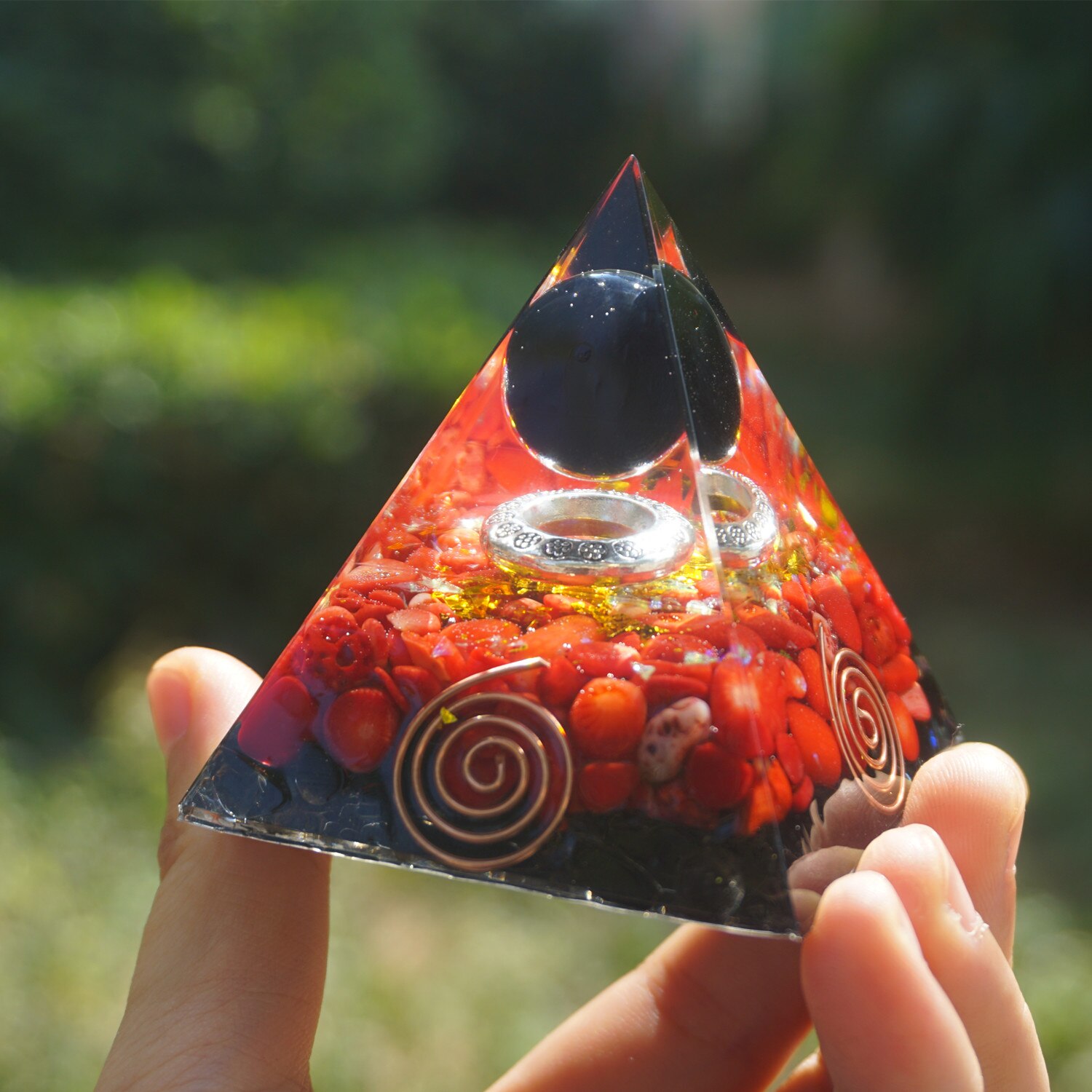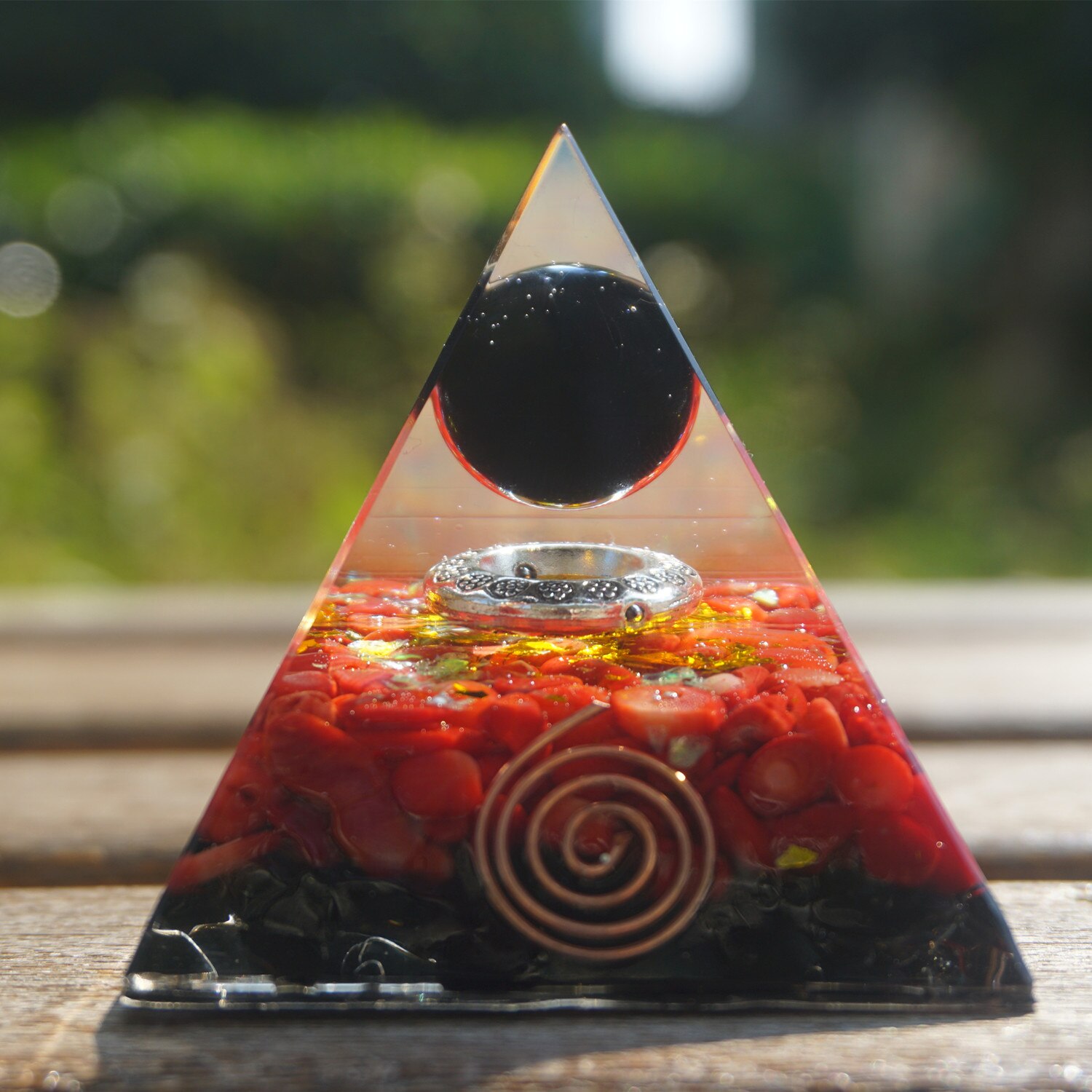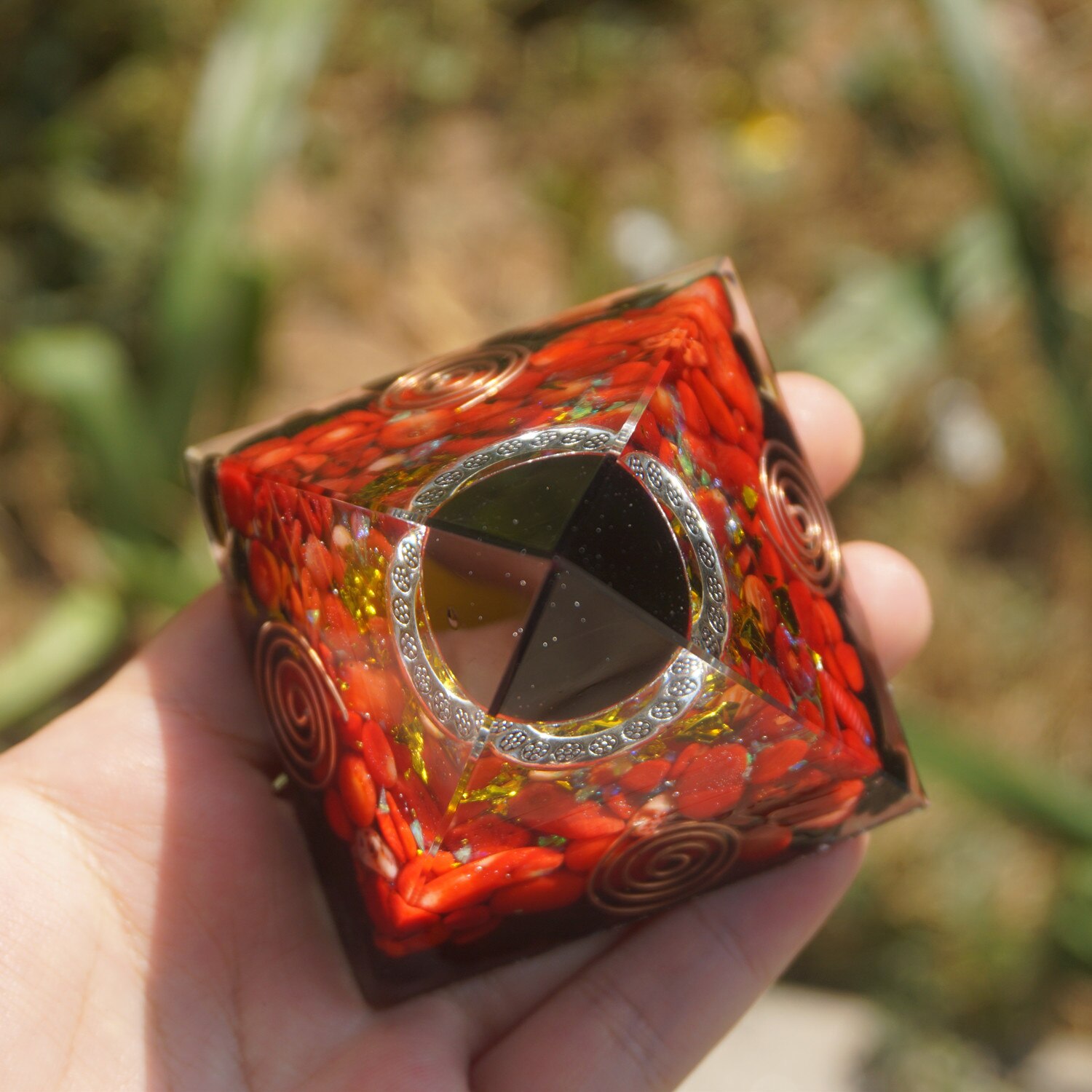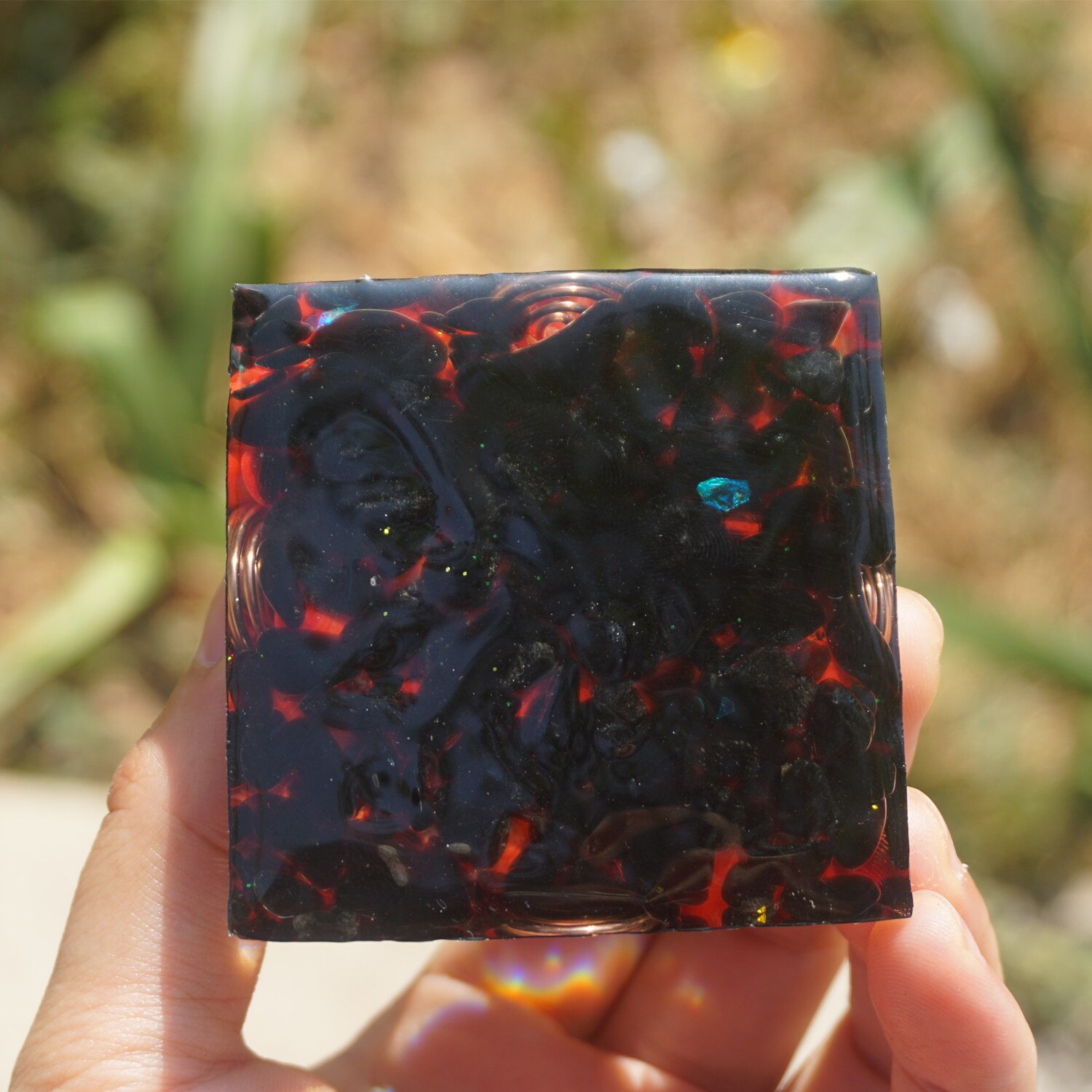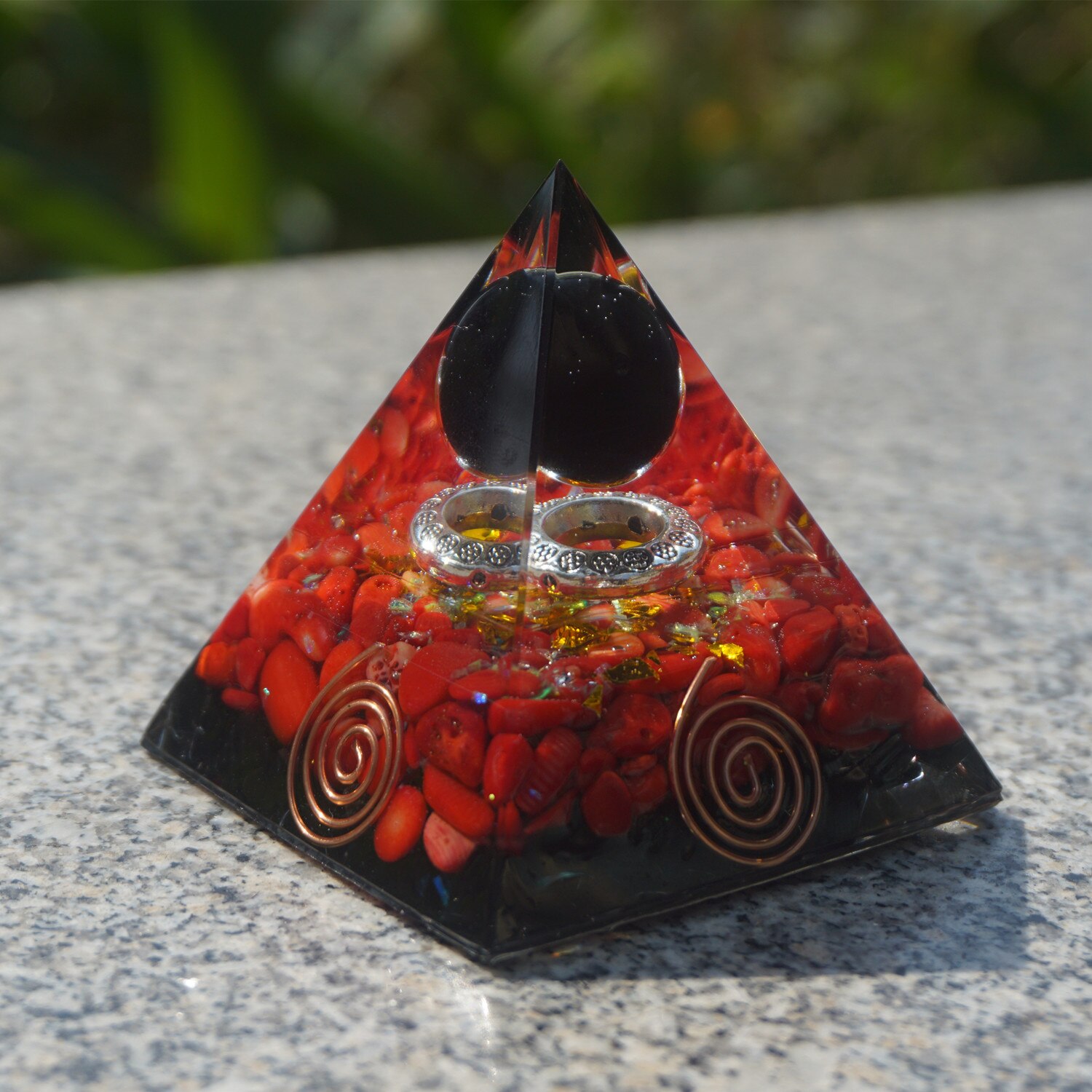 Handmade Obsidian Crystal Sphere Orgone Pyramid 60mm Energy Healing Orgonite
Bring back balance and harmony with an Orgone Pyramid Energy Generator.
Perfect for Chakra work, Reiki healing, crystal grids, home office decor, gifts, and more!
Package Includes:  1 Orgone Pyramid with Gift Box
It's made entirely by hand, so each will be slightly different.
Orgonite features: works continuously; converts negative energy into positive energy; purifies the atmosphere, detoxifies water; helps plants grow better; often treats insomnia and chronic nightmares; helps awaken your innate heart-inspired officer. Provide strong vitality support, maintain human health, energetic, and reduce physical damage caused by environmental pollution.
Because every crystal and stone is unique, there may be slightly different details, but we guarantee that every orgonite pyramid is as beautiful as the pictures.
Only logged in customers who have purchased this product may write a review.