insanely accurate love tarot readings
Questions About Your Love Life?…
Let me get you the answers, insight, and clarity you need about your relationship so you can finally know what to do moving forward
Unknown Truth Tarot's Free Love Tarot Readings Are Trusted Accurate By…
Over
114,000
Subscribers on YouTube
More Than
5,007,110
Views
Most Recent Free Love Tarot Card Reading Videos
Here's where you can find your free accurate tarot reading for love and marriage
This Pisces May 2023 tarot reading is for Pisces Sun, Moon, Rising, and Venus, and in this Pisces love tarot reading today, we're going to take a look at the status of the love connection between you and your…
Get The Latest Love Tarot Readings For Your Zodiac Sign Delivered Straight To Your Inbox – FREE!
You'll be notified as soon as each new free tarot reading on love is published (usually about once a week)…
100% privacy. No games. No BS. No spam.
Looking For a Private, One-On-One Tarot Reading?…
"I'll Do a Personal Love Tarot Reading FOR You So You Can Finally Get To The Bottom of The Unknown Truth About What's REALLY Going On Between You and Your Romantic Person of Interest"
Here are some of the questions my love tarot readings can answer for you:
Here's What To Expect From Your Personal Reading…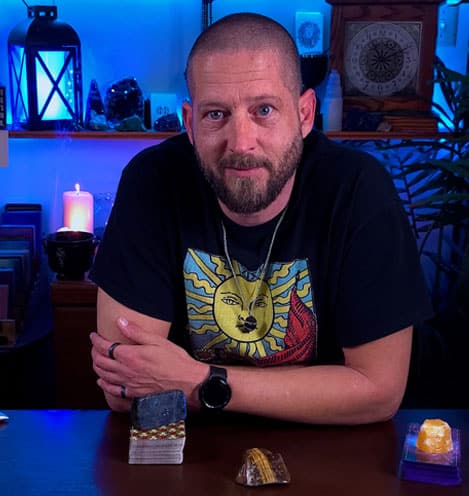 All my private, one-on-one tarot readings are by appointment only, and are done via live video calls.

We'll sit down together, one-on-one where you can ask me any questions you have about your love life or your relationship in complete privacy.

And unlike most tarot readers, there's no limit to the number of questions you can ask. I don't believe in only allowing you to ask an arbitrary number of questions, or in putting some artificial limit on the number of tarot cards I'll pull for you…

I simply won't stop your reading until all your questions have been answered.

And you'll walk away with the insight and clarity you need so you can finally know what to do moving forward.

I'll even give you a private video recording of your reading, just in case you want to refer back to it later.

And (to the best of my knowledge), I'm the only tarot reader who offers a 100% money-back guarantee. Your private love tarot reading with me will be accurate, or you don't pay.

That's more than a guarantee… it's my personal promise to you.
Can You Do a Tarot Love Reading on Yourself?…
Yes, you absolutely can! While many people say they have a hard time trying to do their own tarot reading on love life, it IS totally possible. In fact, that's exactly what I did when I was first trying to learn to read tarot cards myself.

And if you're interested in doing your own accurate tarot reading about love for free (or learning how to read tarot), I offer more than 397 different tarot decks and oracle decks (along with books on tarot and tarot spreads, other divination tools – and much more) in my online metaphysical supply store.

Here's a small sample…