Blue Kyanite Orgonite Pyramid (60mm) with Sun Of Life and Amethyst Crystal Sphere
$28.05

FREE Shipping
Please allow up to 30-40 days shipping time as this item will ship to you directly from our supplier.
In stock
Free shipping on orders over $100! (US orders only)
Safe, Fully Encrypted Payments
100% Money-Back Guarantee
Fast, Reliable Shipping Options
Easy Exchanges & Returns
Elevate Your Spiritual Journey with Blue Kyanite Orgonite Pyramid
The Blue Kyanite Orgonite Pyramid (60mm) with Sun Of Life and Amethyst Crystal Sphere is a must-have for anyone looking to enhance their spiritual journey and promote positive energy flow in their home or workspace.
Here are some reasons why this orgone pyramid is the perfect addition to your crystal collection:
Unblock Your Chakras and Enhance Your Spirituality
The Blue Kyanite Orgonite Pyramid is known for its ability to unblock your chakras and promote a sense of balance and harmony.  It helps to stimulate the throat chakra, allowing you to express yourself with clarity and confidence.
The Sun of Life symbol on the pyramid is a powerful energy source that represents the cycle of life and the interconnectedness of all living things.
The amethyst crystal sphere helps to promote spiritual awareness and intuition.
Boost Your Mood and Promote Relaxation
The Blue Kyanite Orgonite Pyramid can also help you boost your mood and promote relaxation. It helps to release negative energy and promote a sense of calm and tranquility. With this pyramid in your home or workspace, you can create a peaceful and nurturing environment that supports your mental and emotional well-being.
Enhance Your Home Décor
In addition to its spiritual benefits, the Blue Kyanite Orgonite Pyramid is also a stunning piece of home décor. Its intricate design and beautiful blue color make it a captivating addition to any room. It also helps to balance the energy of your space, creating a harmonious and uplifting environment.
Item Weight: 

200g

Item Height: 

6cm

Item Width: 

6cm

Item Length: 

6cm

Product Features: 

HANDMADE

Material: Amethyst Crystal Sphere, Blue Kyanite, Gear Wheel, Resin, Gold Foil, Love
Blue Kyanite Orgonite Pyramid with Sun Of Life and Amethyst Crystal Sphere EMF Protection Gear Wheel Crystal Healing Orgone Pyramid
Package Includes : 1 Blue Kyanite Orgonite Pyramid with Gift Box
Amethyst
Amethyst healing properties are as plentiful as the stone itself. It is thought of mostly as a protective stone. As it is linked to the crown chakra, it is helpful in purifying the mind and clearing it of negative thoughts. This includes the negativity of stress and anxiety, which is why many meditate with amethyst so as to rid themselves of that darkness. Amethyst healing properties are especially useful in regards to work-related stress, because the stone is also associated with abundance; therefore relieving stress while emanating prosperity. The amethyst properties which facilitate intuition and communication can also be applied to increased work effectiveness.
Blue Kyanite
Blue Kyanite's frequency encourages the examination of all aspects of oneself, the various interests, skills and knowledge that creates the uniqueness of one's identity, and how it can be used for one's Soul path on Earth and in finding a life-fulfilling vocation. It encourages listening to intuitive guidance and living with integrity of purpose.
Blue Kyanite helps overcome a victim or fatalistic mentality, and the resignation of oneself to the recurring emotional patterns that create blockages in the energetic field. Blue Kyanite can bridge the connection to those patterns and quickly create new energy flow and a shift in one's perception to the world. It assists one in remaining functional in extreme situations, promotes a more logical way of thinking, and encourages resolute action.
Main Features of Orgonite Pyramids:
* Neutralizes EMF radiation, EMF Protection for phones, home, office, garden, house, etc.
* Clears negative energy and positive energy generator
* Aids in meditation
* Supports restful sleep
* Relieves stress
* Purifies the living area
* Give you more energy
* Balances moods
* Helps with spiritual and psychological growth
* Helps with resistance to ill health or to improve it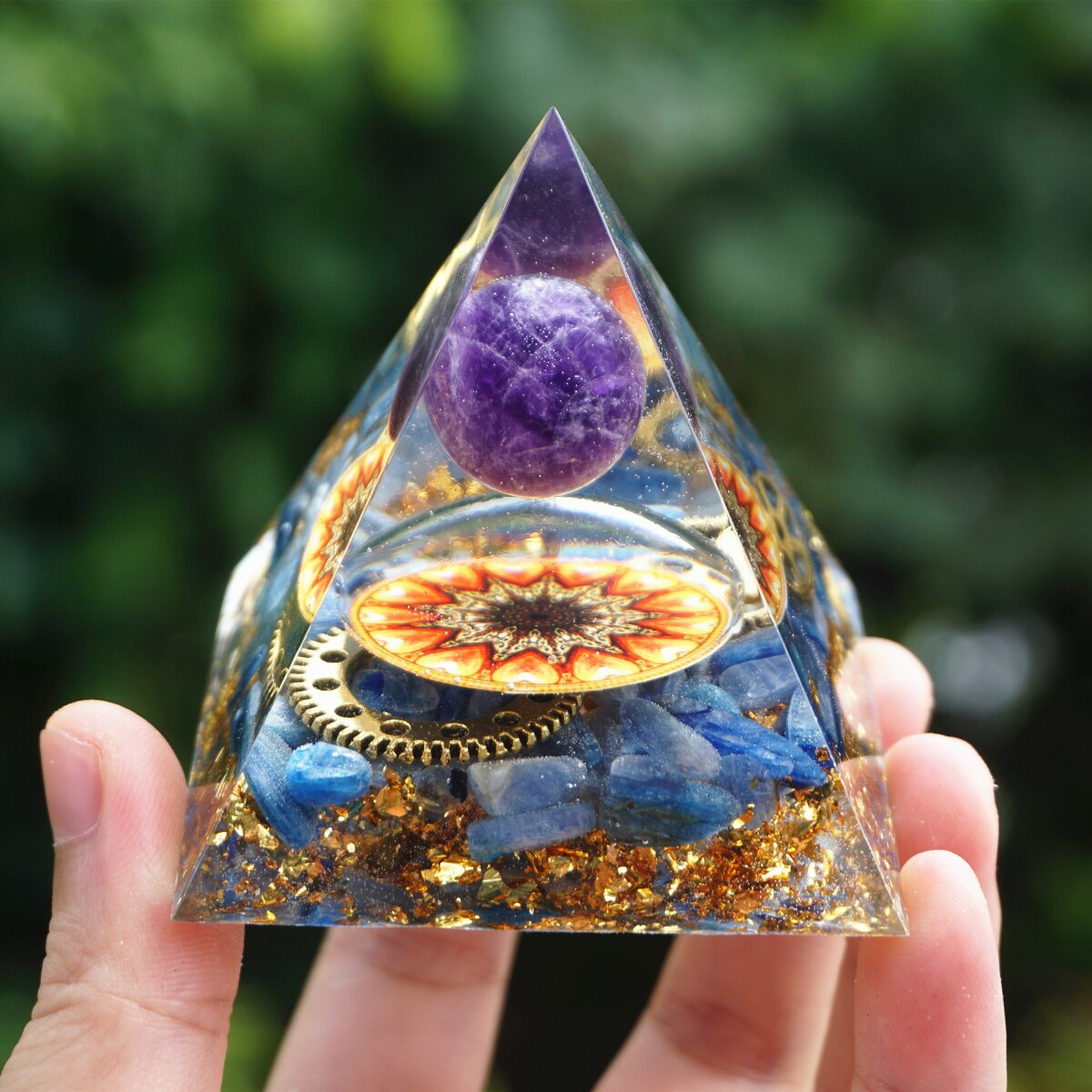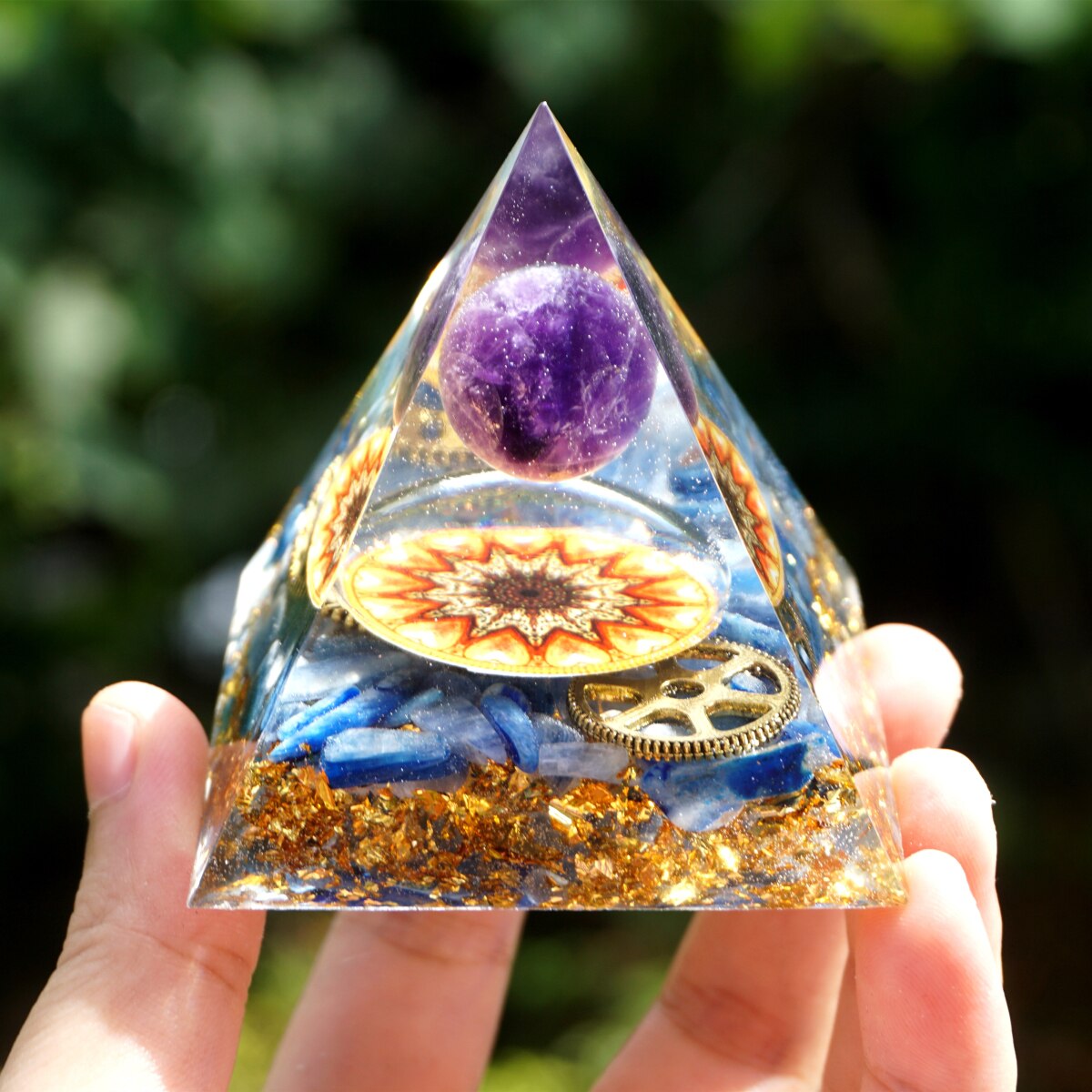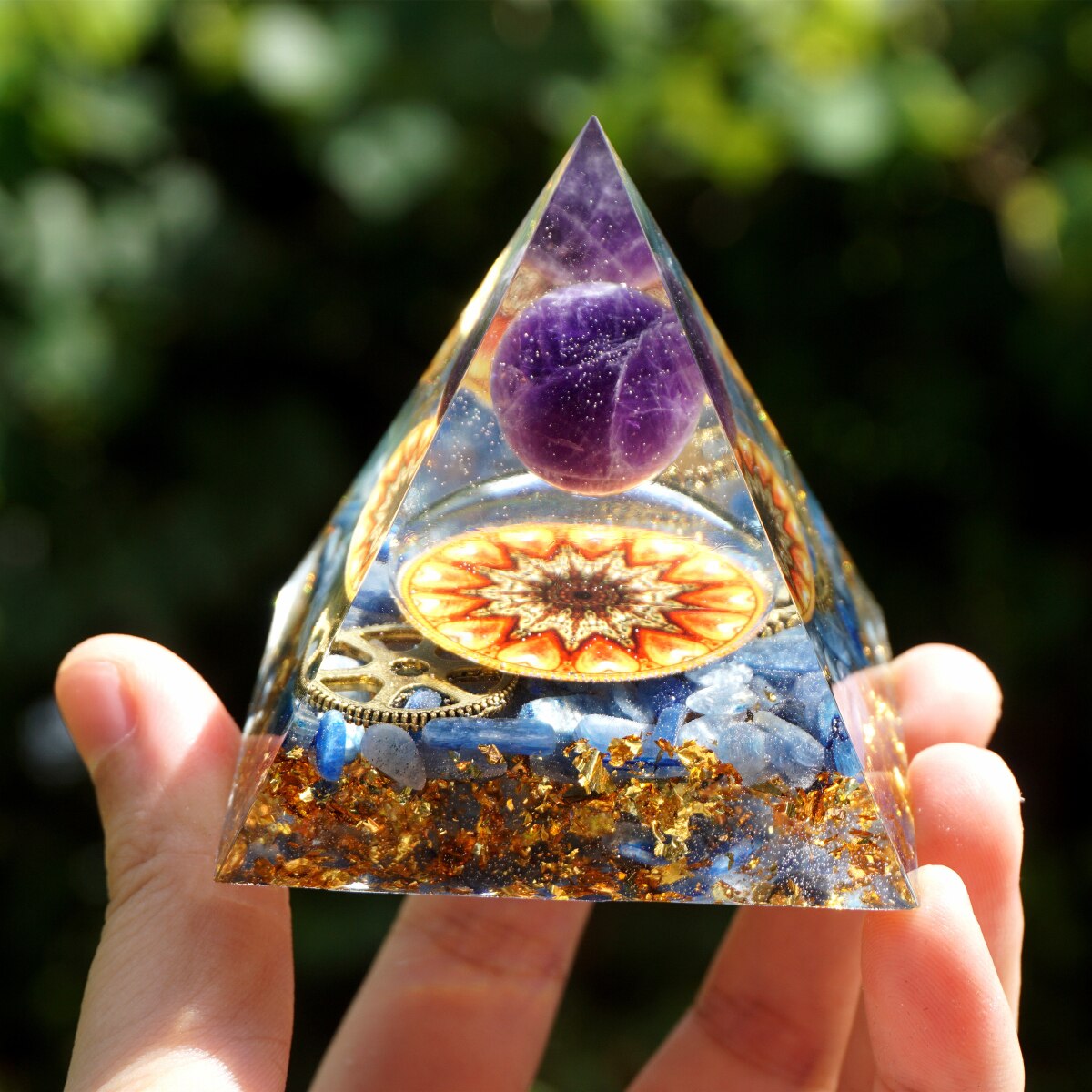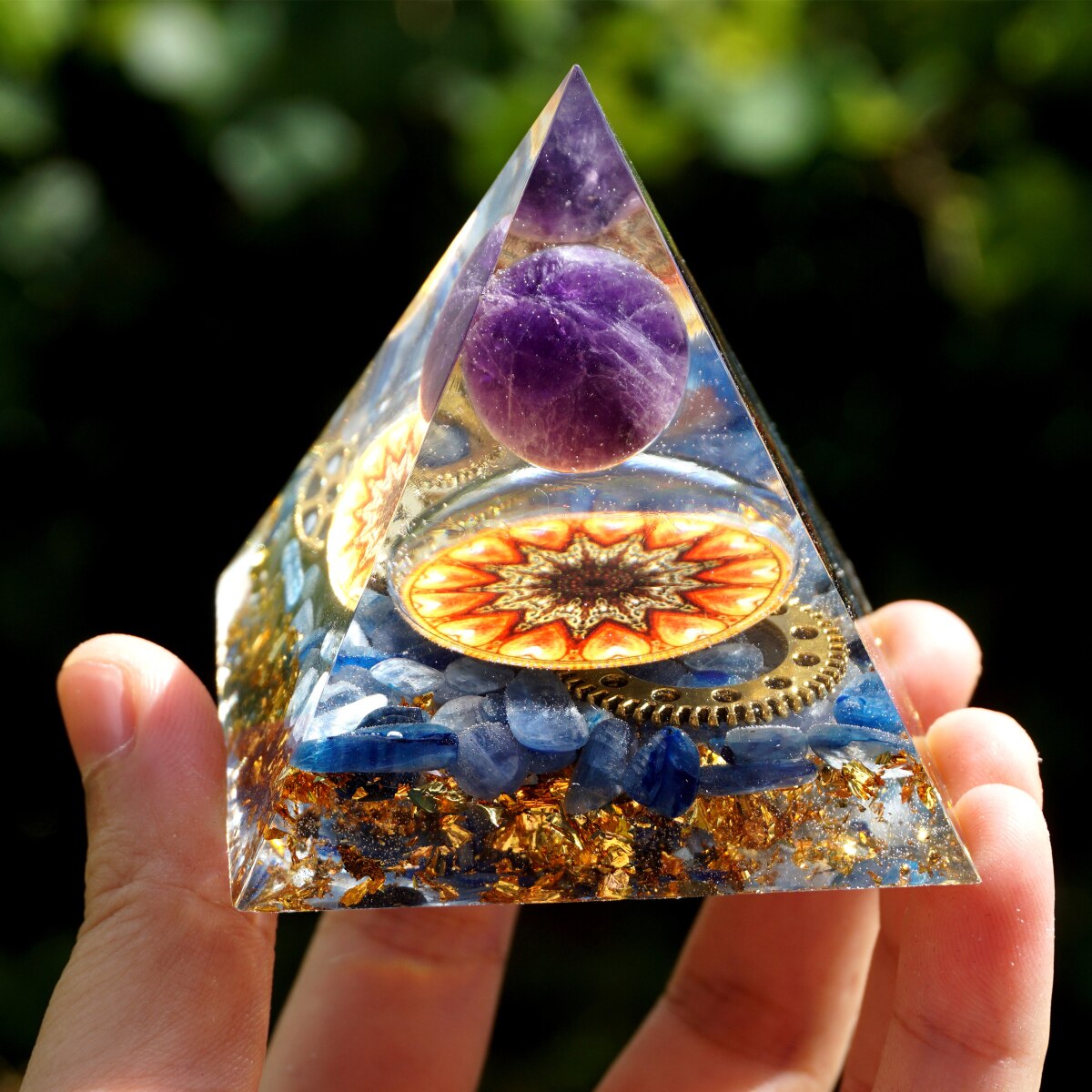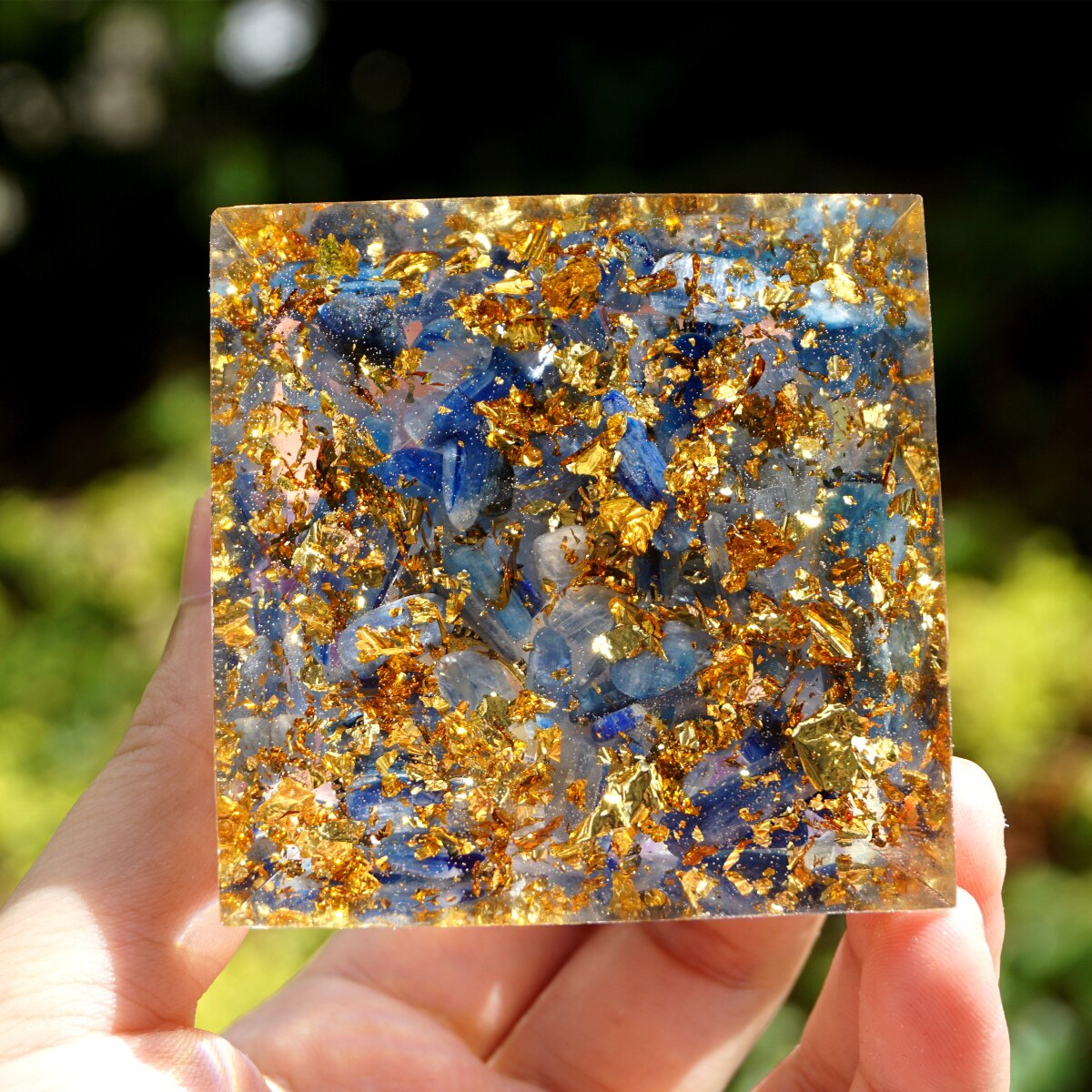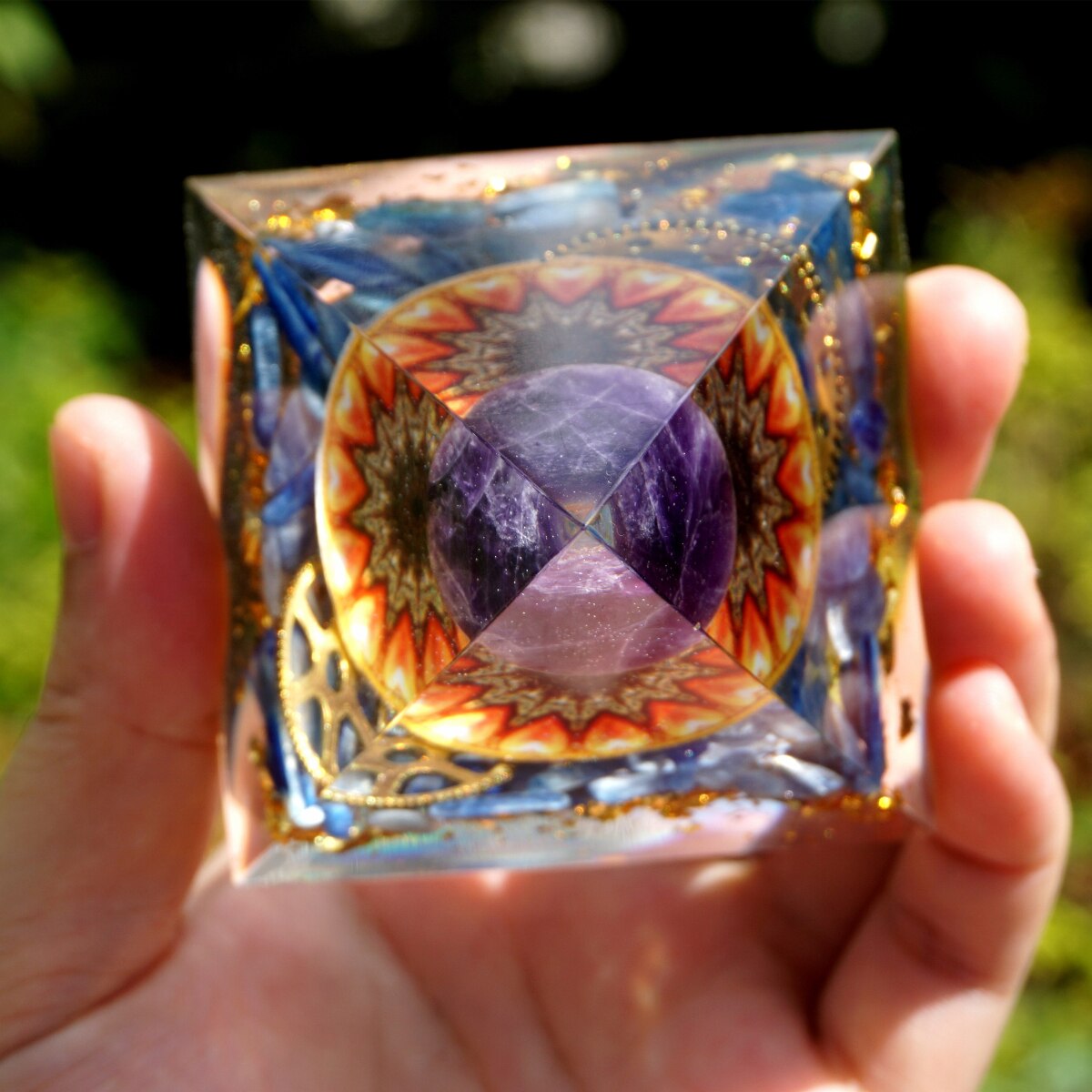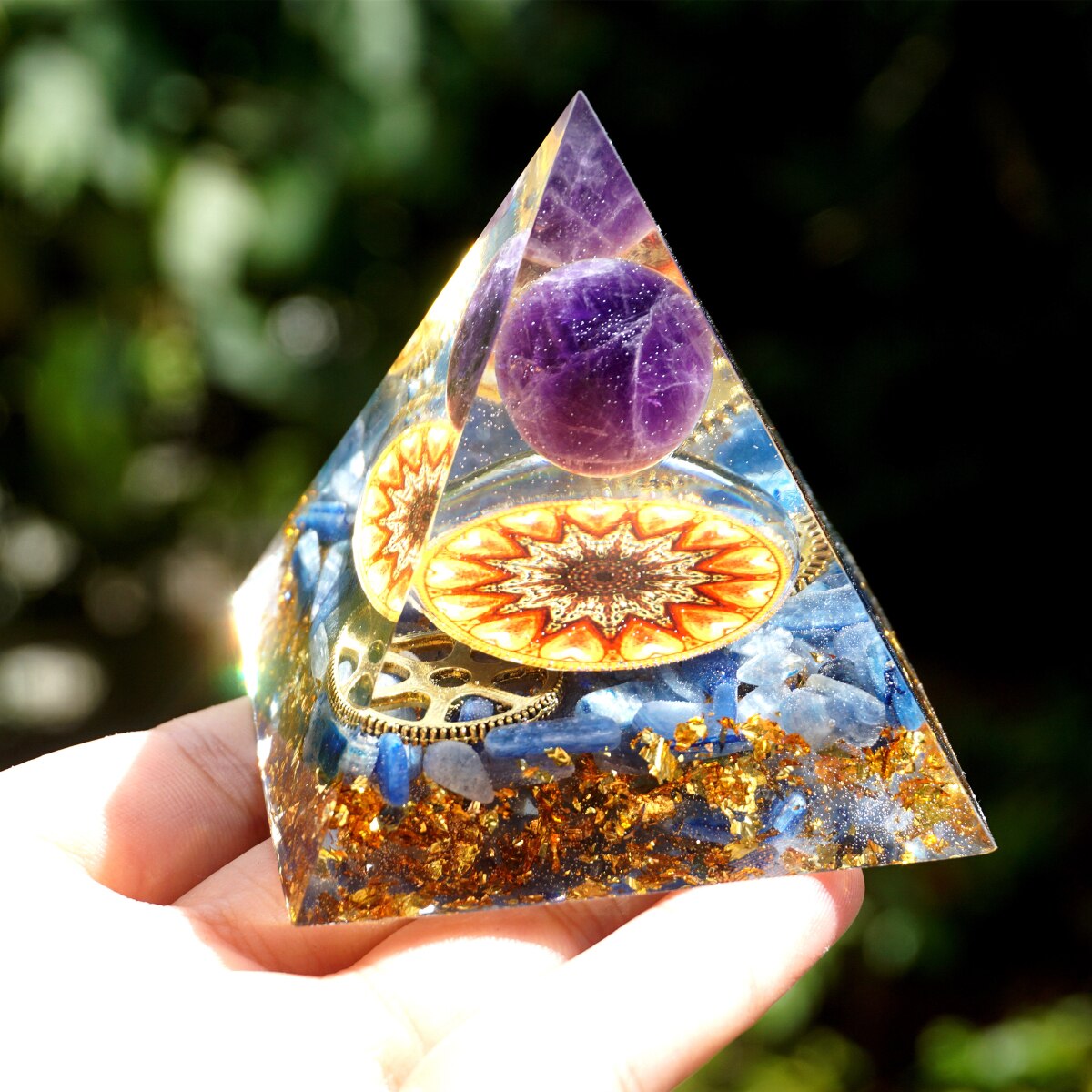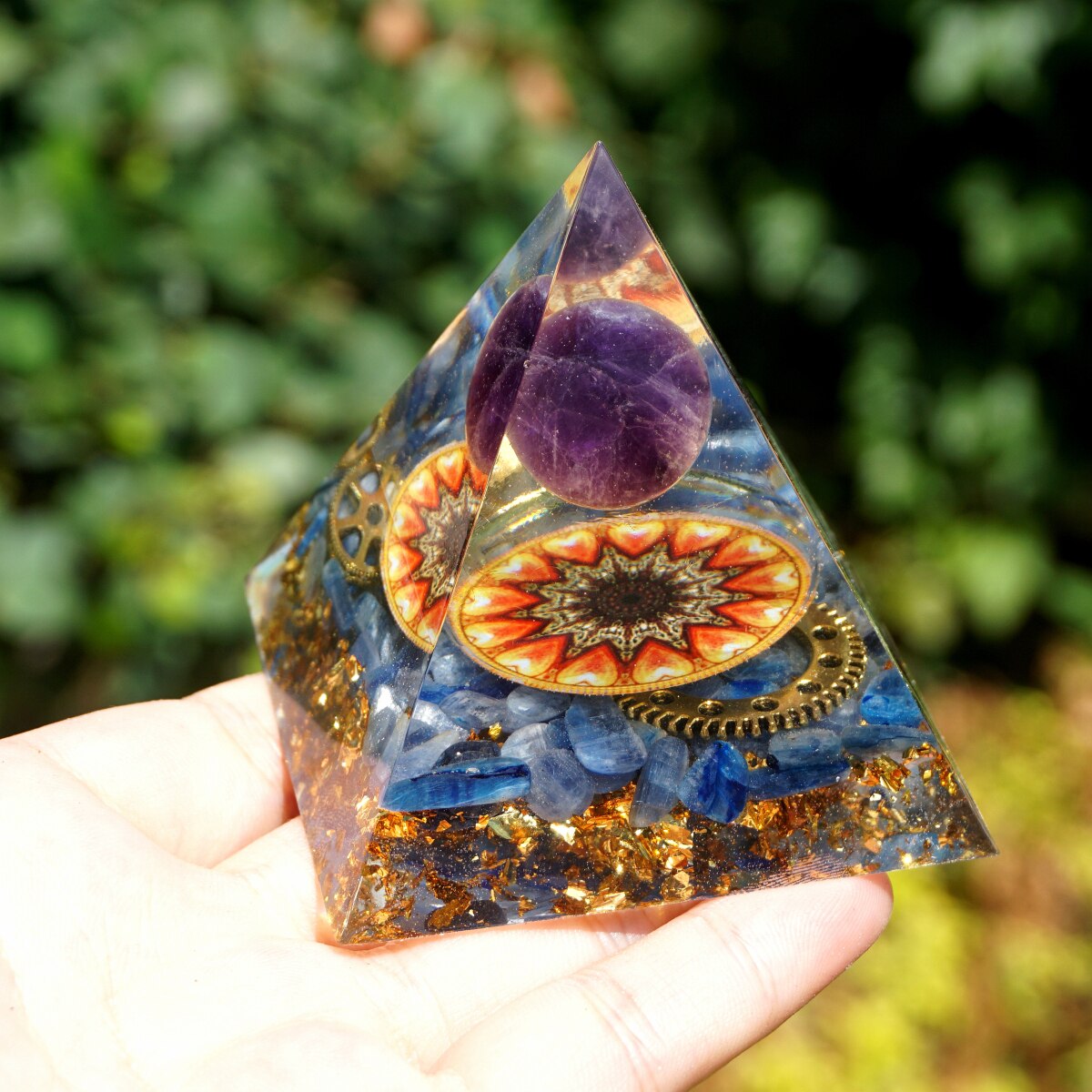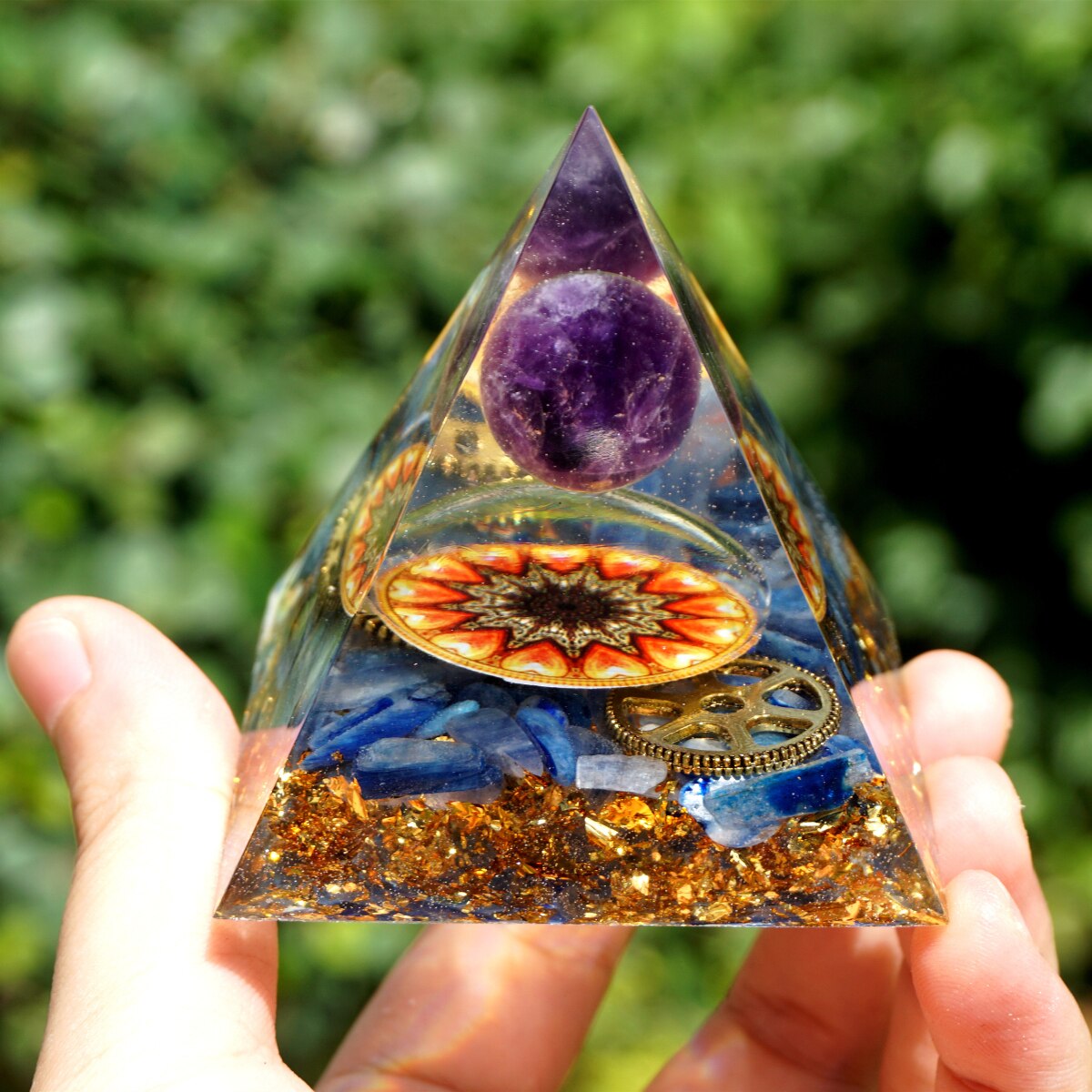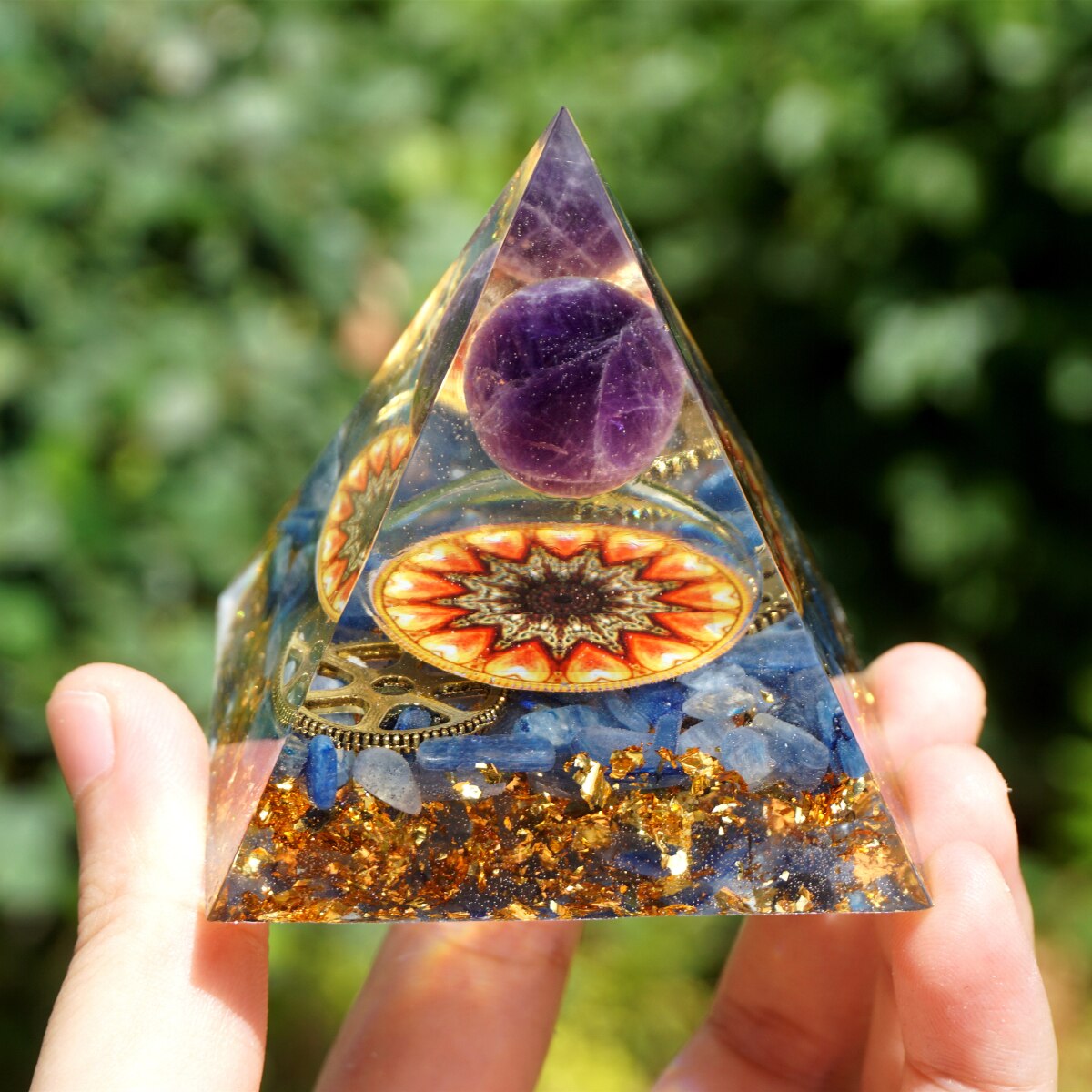 Only logged in customers who have purchased this product may write a review.