Cat's Eye and Amethyst Orgonite Pyramid (60mm) With Amethyst Sphere and Colorful Cat Eye Natural Crystal
$28.05

FREE Shipping
Please allow up to 30-40 days shipping time as this item will ship to you directly from our supplier.
In stock
Free shipping on orders over $100! (US orders only)
Safe, Fully Encrypted Payments
100% Money-Back Guarantee
Fast, Reliable Shipping Options
Easy Exchanges & Returns
Connect with Your Inner Self and Unlock Inner Peace with the Cat's Eye and Amethyst Orgonite Pyramid
Introducing the Cat's Eye and Amethyst Orgonite Pyramid (60mm) With Amethyst Sphere and Colorful Cat Eye Natural Crystal – the ultimate combination of natural stones and crystals that will provide you with powerful healing and protective energies. Here's why you should make this unique pyramid a part of your daily routine.
Protection and Grounding
Are you constantly feeling anxious or stressed? The Cat's Eye and Amethyst Orgonite Pyramid can help. The combination of cat's eye and amethyst provides grounding and calming energy that will help you stay centered and focused. The orgonite pyramid also helps to protect you from electromagnetic radiation and negative energies in your environment.
Experience Enhanced Intuition and Spiritual Growth with This Cat's Eye and Amethyst Orgonite Pyramid
The Amethyst Sphere and Colorful Cat Eye Natural Crystal in the pyramid help to enhance intuition and spiritual growth. The amethyst sphere is known for its ability to promote spiritual awareness and enhance intuition, while the cat's eye crystal helps to connect you with your inner self and enhance psychic abilities.
Aesthetically Pleasing Decor
Not only does the Cat's Eye and Amethyst Orgonite Pyramid offer powerful healing and protective benefits, but it also makes for a beautiful addition to any space. The unique combination of colors and crystals in the pyramid create a visually stunning and eye-catching display that will impress anyone who sees it.
Perfect for Chakra work, Reiki healing, crystal grids, home office decor, gifts, and more!
Package Includes: 1 orgone pyramid with gift packing box.
Metaphysical Properties and Uses of the Crystals Inside This Cat's Eye Orgonite Pyramid
Amethyst is a stone of spiritual protection and purification, cleansing one's energy field of negative influences and attachments, and creating a resonant shield of spiritual Light around the body. It acts as a barrier against lower energies, psychic attack, geopathic stress and unhealthy environments.
Cat's Eye Obsidian acts to stimulate intuition and to enhance awareness. It is a grounding stone that provides a very effective protective energy. Cat's Eye dispels unwanted energy from the aura. It amplifies good luck and fortune. Chrysoberyl Cat's Eye transforms negative thoughts into positive energy.
Because it is Handmade product, and crystals and stones are different from each other, it is normal that each orgone pyramid looks slightly different. But the difference makes every Cat's Eye and Amethyst Orgonite Pyramid unique.
Item Weight: 

200g

Item Height: 

6cm

Item Width: 

6cm

Item Length: 

6cm

Product Features: 

HANDMADE

Material: 

Amethyst Sphere, Colorful Cat Eye Crystal, Mandala Pattern, Gold Foil, Resin, Love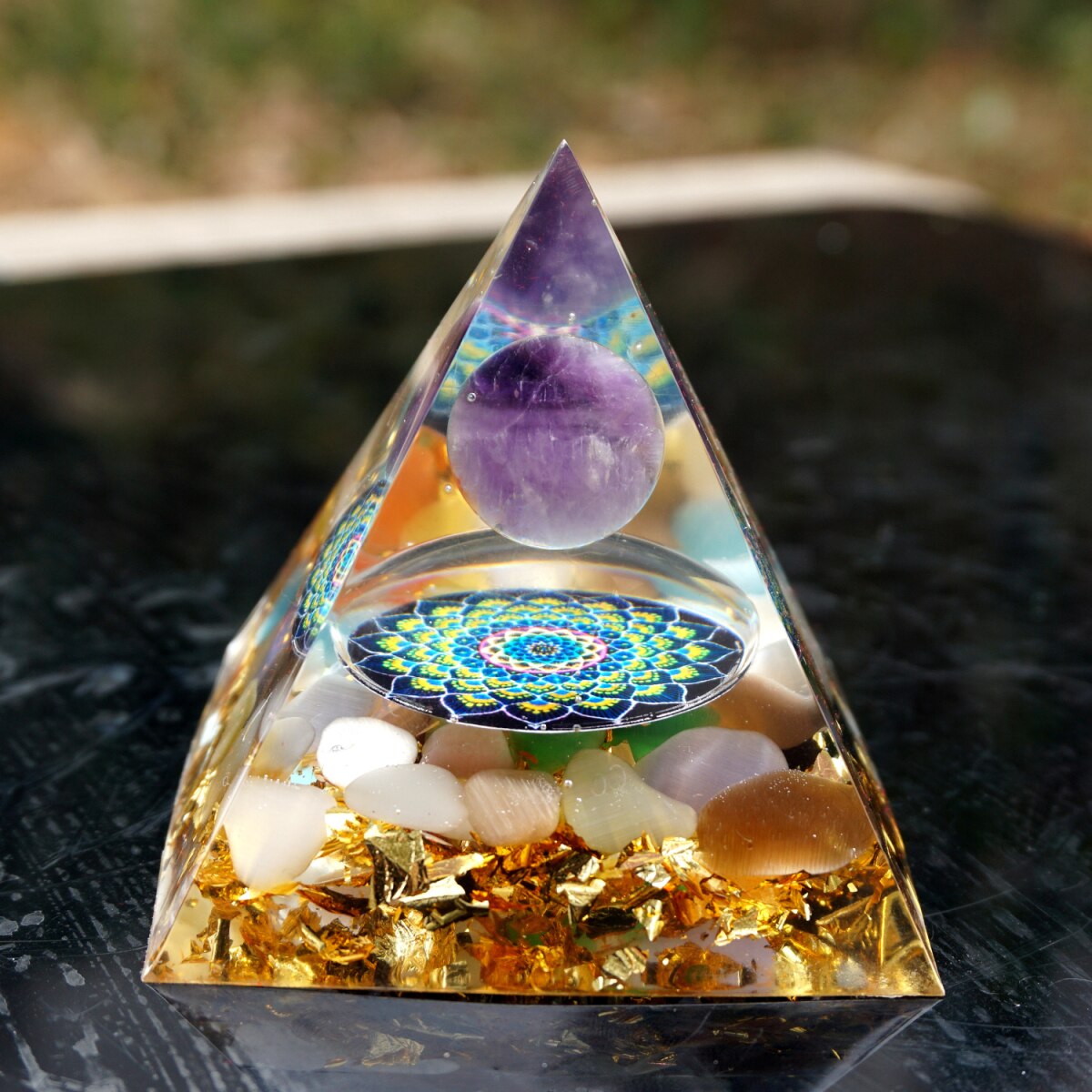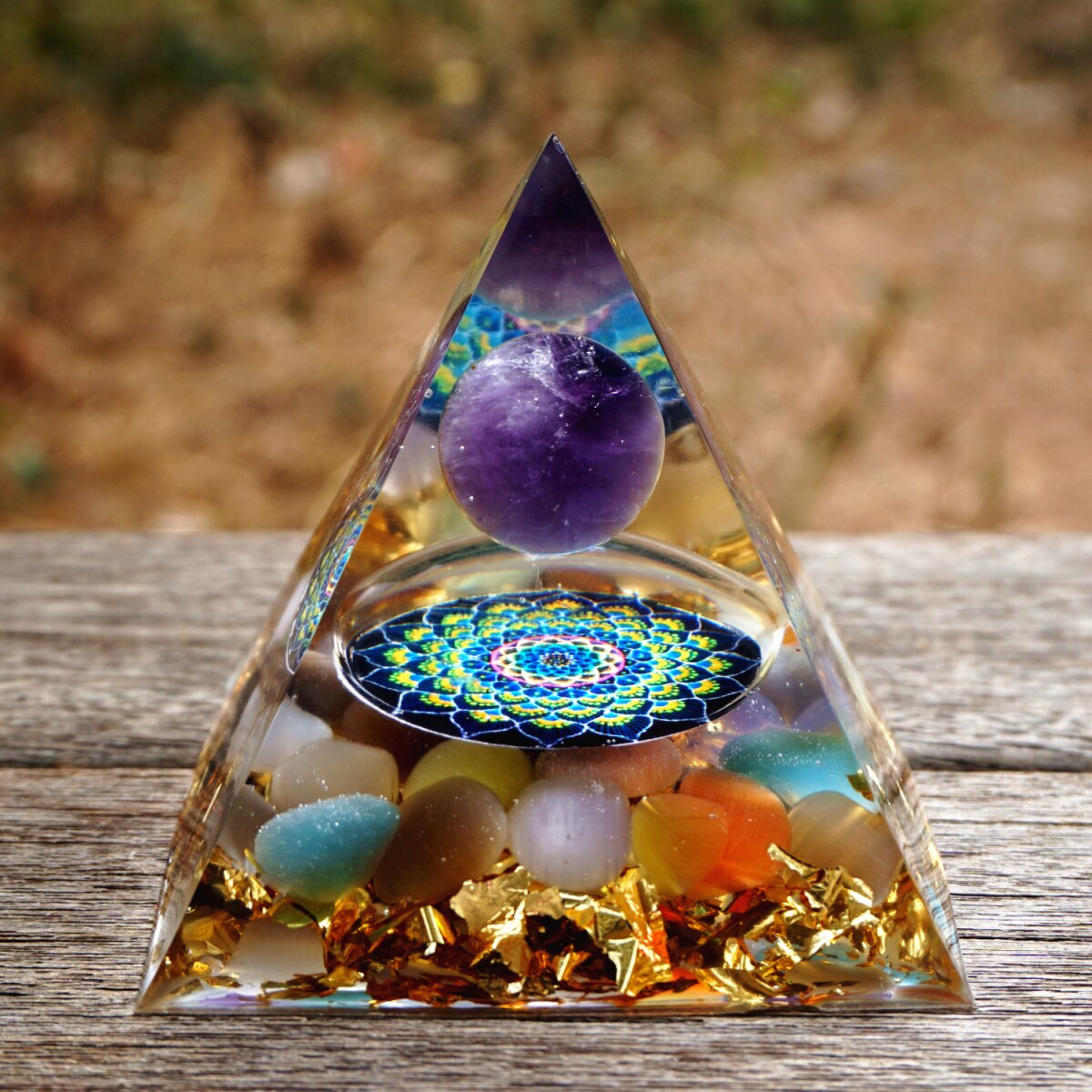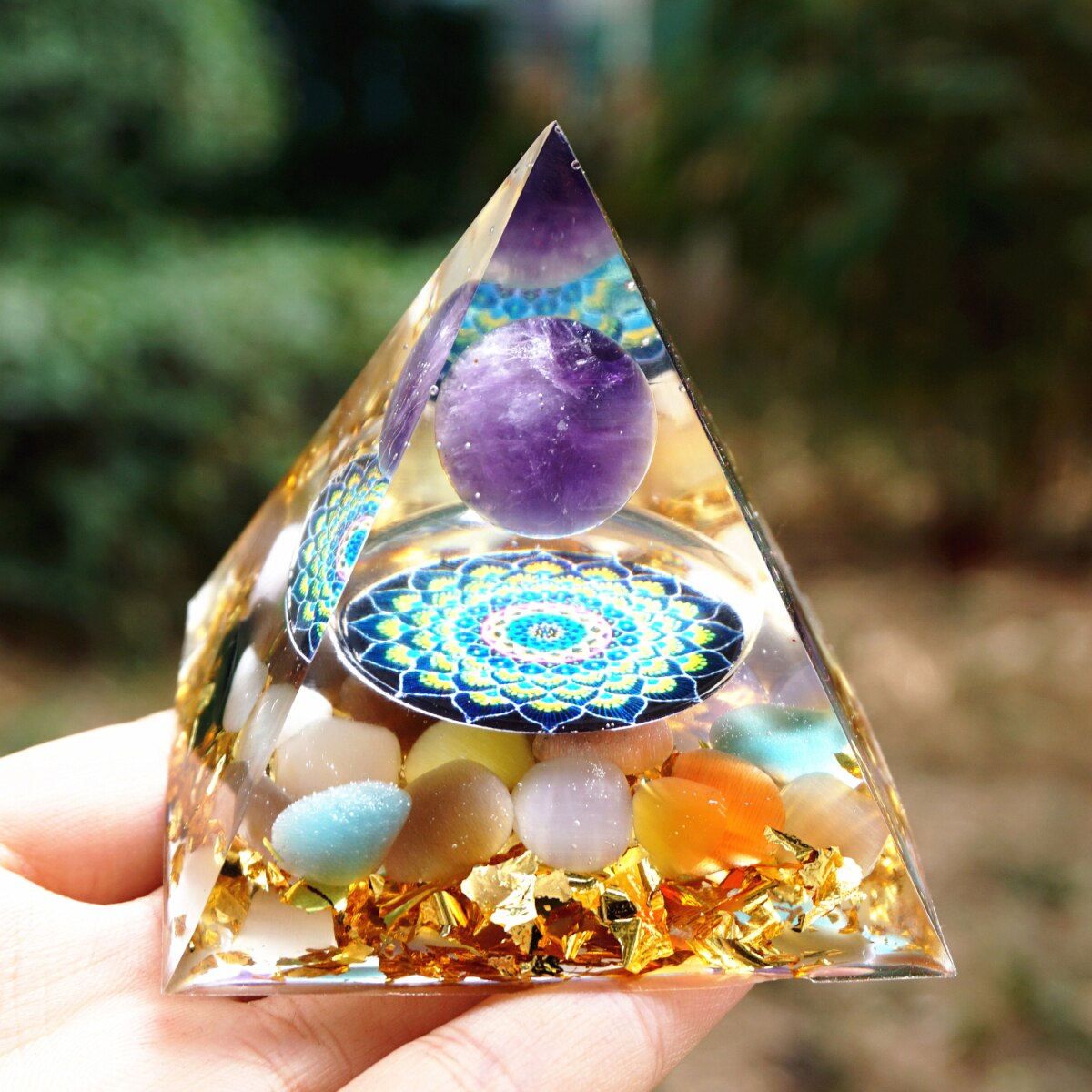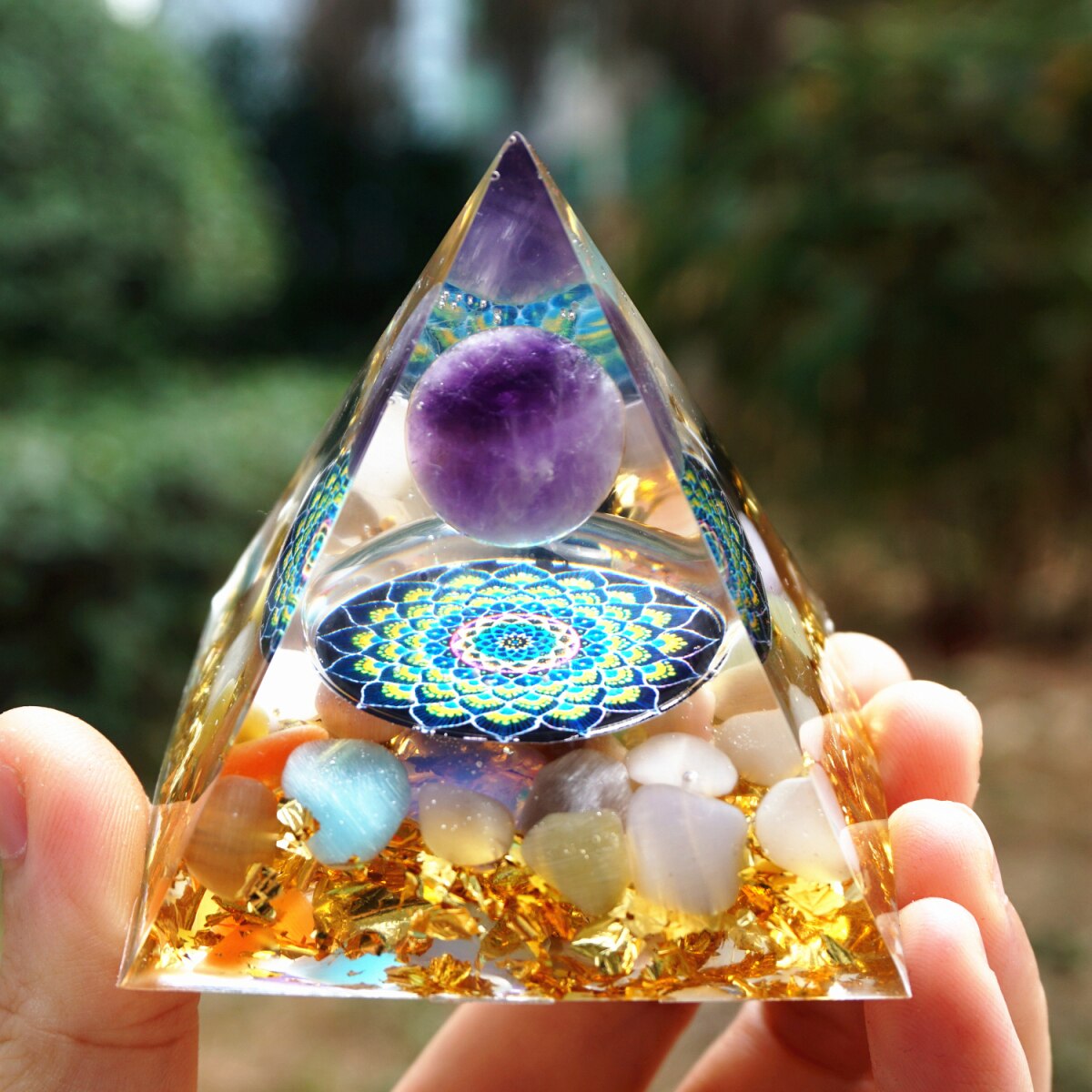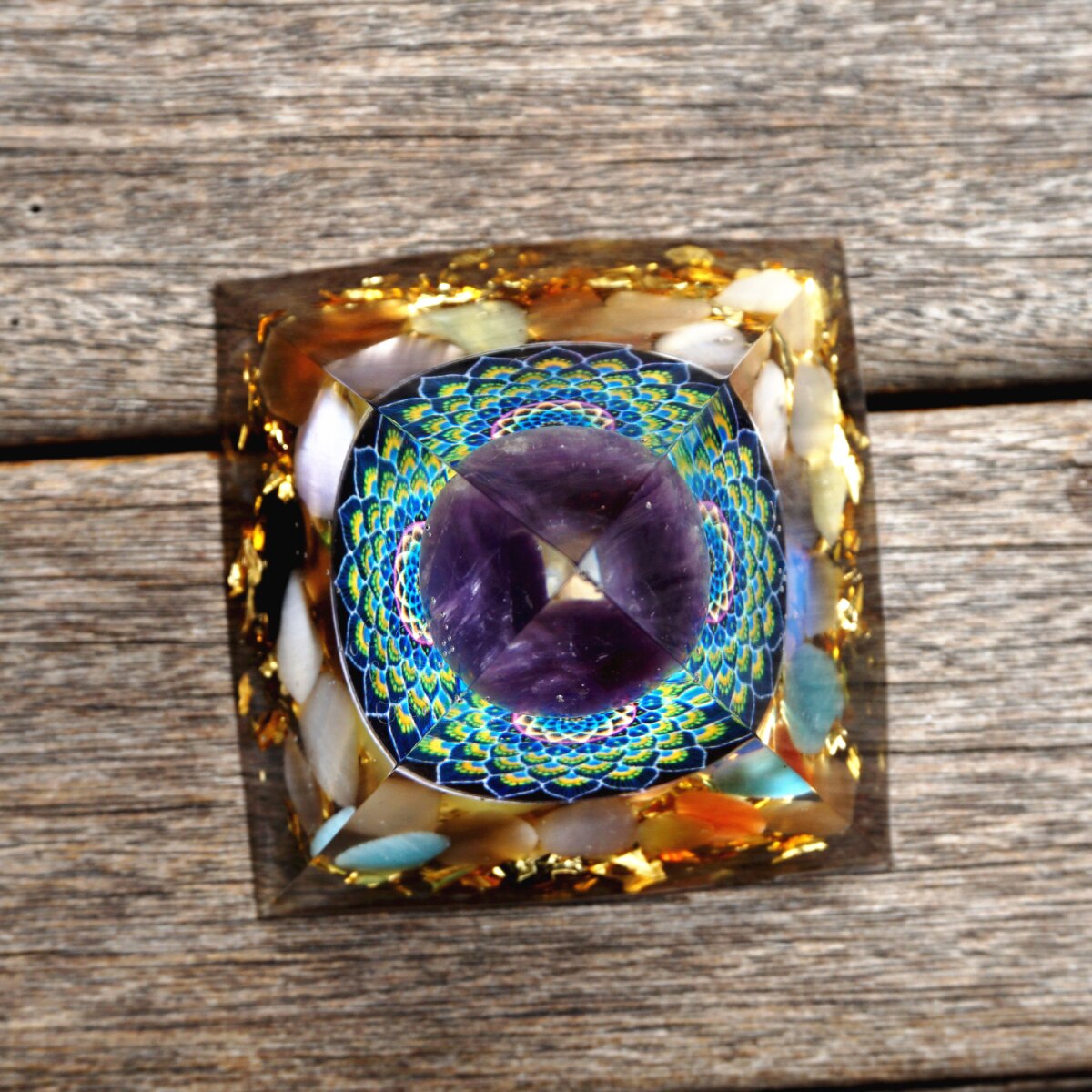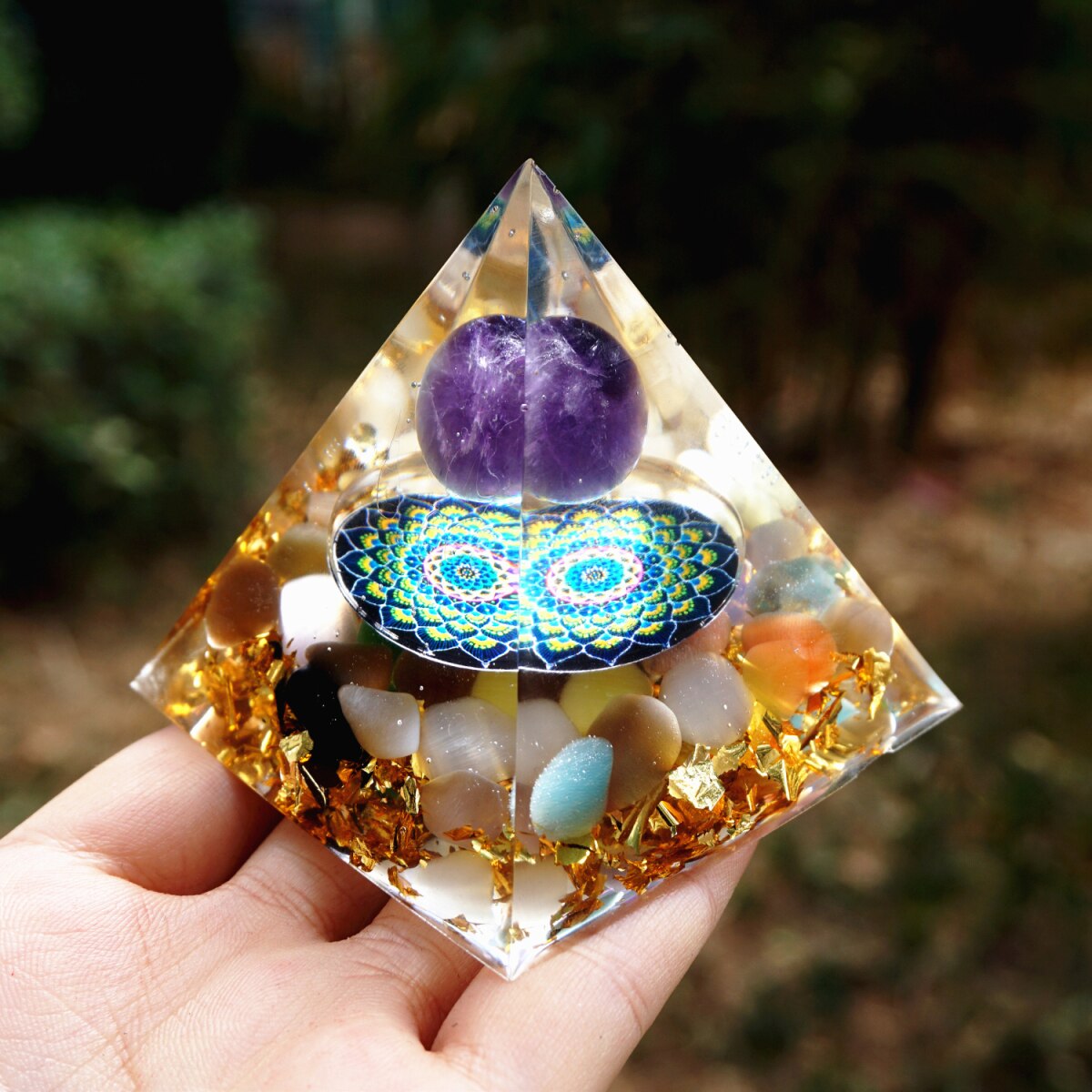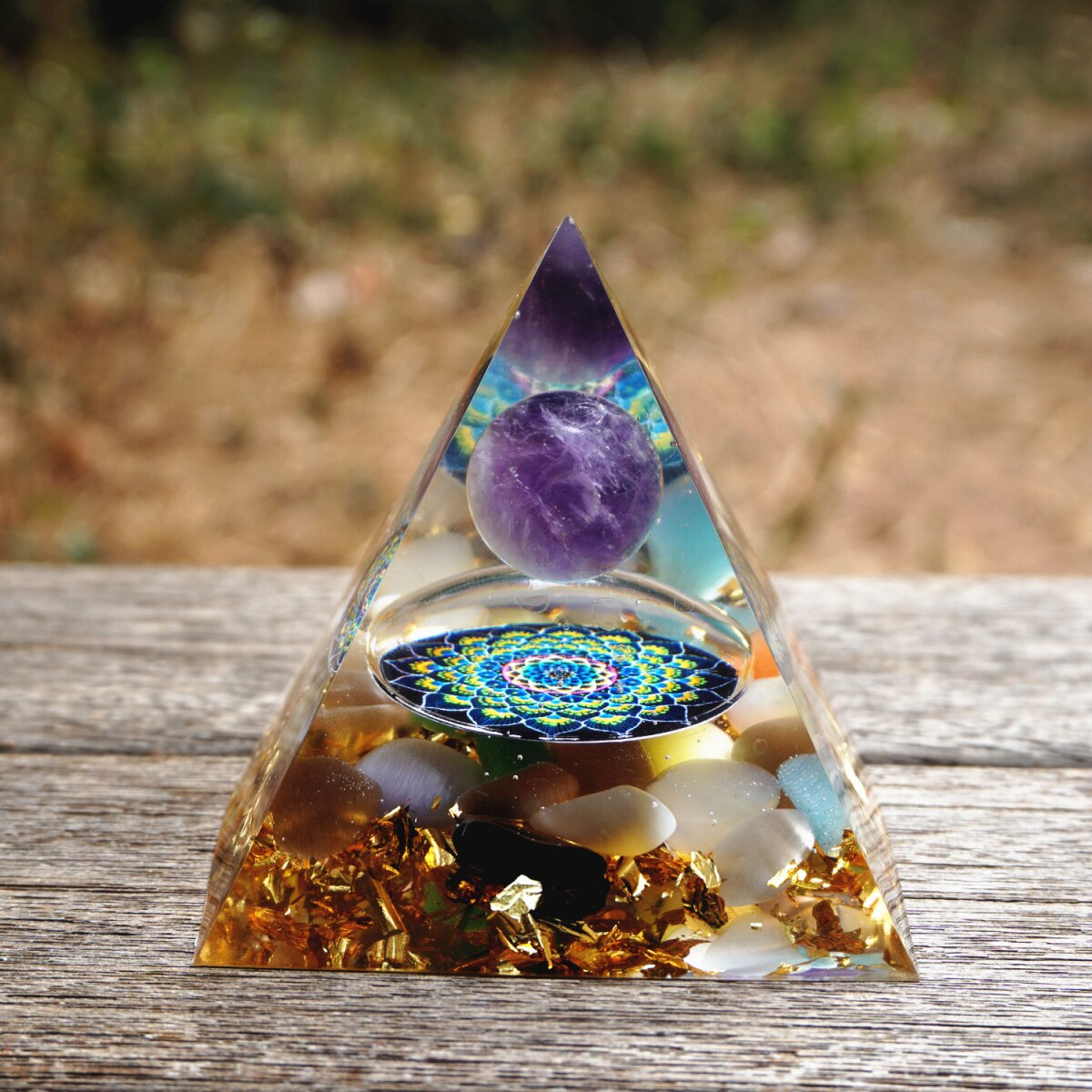 Only logged in customers who have purchased this product may write a review.