Labradorite Mini Pyramid (25x30mm) 1pc
$14.01

FREE Shipping
Please allow up to 30-40 days shipping time as this item will ship to you directly from our supplier.
In stock
Free shipping on orders over $100! (US orders only)
Safe, Fully Encrypted Payments
100% Money-Back Guarantee
Fast, Reliable Shipping Options
Easy Exchanges & Returns
Awaken Your Inner Mystic with the Energy of Our Labradorite Mini Pyramid
This hand-crafted crystal pyramid (sparkling in shades of vibrant, iridescent hues of blues and greens) not only enchants the eye but also resonates with deep metaphysical properties.
Discover the magic that lies within and let it guide your spiritual journey towards transformation and self-discovery.
Awaken the Magic of Labradorite
Labradorite is a stone of transformation, a companion for change, and a guide on your spiritual journey.
With our Labradorite Mini Pyramid, you have a potent tool in the palm of your hands. Shaped perfectly into a 25x30mm size, this piece is ideal for meditation, energy work, or to grace your sacred space with its mystical allure.
When you hold this pyramid, you're not just holding a crystal; you're holding a beacon of inner strength and self-discovery.
Considered a stone of magic, labradorite opens up a world of possibilities.
Have you been stuck in a rut?
Longing for change but unsure where to start?
The labradorite pyramid is your faithful companion, guiding you through the murky waters of transition towards the clear shores of transformation.
Embrace the changes in your life, and let the magical vibrations of labradorite illuminate your path.
Harness the Power in Everyday Scenarios
There is magic in everyday life, and our Labradorite Mini Pyramid serves as a reminder of that.
Imagine amplifying your yoga sessions, enhancing your meditation, or even just heightening your morning rituals by introducing the energy of labradorite into these activities.
Whether it's for chakra alignment, dream work, or simply as a talisman of protection and strength, this crystal pyramid has got you covered.
You can incorporate labradorite into your bedtime routine, placing it on your bedside table to ward off negative energies and bring about peaceful dreams.
If you're working on manifesting certain goals, let this crystal pyramid be your aide during affirmations.
Whatever your spiritual need or situation, the Labradorite Mini Pyramid offers its transformative energy to assist you.
Why Labradorite is Your Perfect Companion
The Labradorite Mini Pyramid is more than just a crystal; it's a companion on your journey. Its size makes it convenient for travel, allowing you to maintain your spiritual routine wherever you are.
Its stunning color and unique pyramid shape make it a beautiful adornment for any sacred space.
Furthermore, labradorite as a stone is deeply attuned to its beholder's needs.
If you're seeking change, if you're opening your mind to the world of magic and mysticism, this stone can be an invaluable guide.
As you hold it, feel the energy that has been harnessed within, ready to assist you in your spiritual journey.
Color: Iridescent hues of blue, green, and grey
Metaphysical Properties and Uses:
Amplifies personal strength and perseverance
Promotes psychic abilities and intuition
Aids in times of transformation and change
Protects against negative energies
Encourages exploration of the spiritual realm
Zodiac Sign Associations:
While other crystals offer similar benefits, Labradorite stands out with its unique luminescence and powerful transformative properties.
It's not just a stone; it's an experience, a journey waiting to be embarked upon.
Ready to embark on your transformation journey?
Invite change, foster strength, and illuminate your path with the Labradorite Mini Pyramid.
Let the magic of labradorite guide you towards spiritual growth and self-discovery.
Add this mystical companion to your cart today, and let the journey begin.
Size and weight:
height :28-32 mm
Length:28-32 mm
Width:28-32 mm
weight:30-50g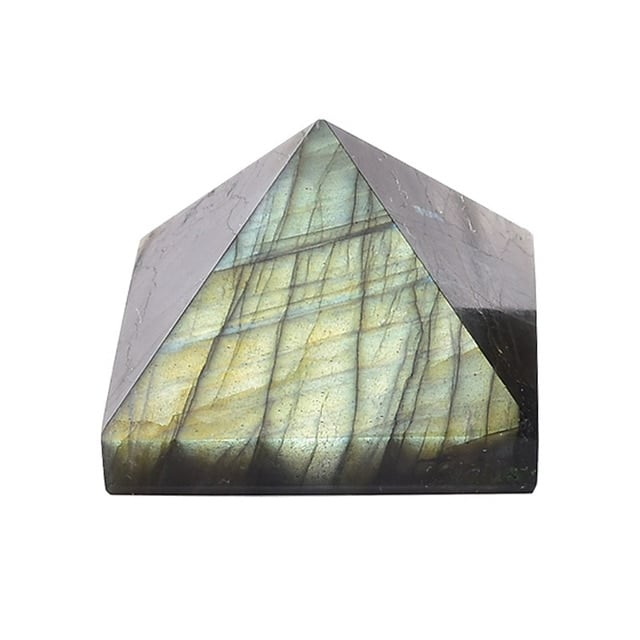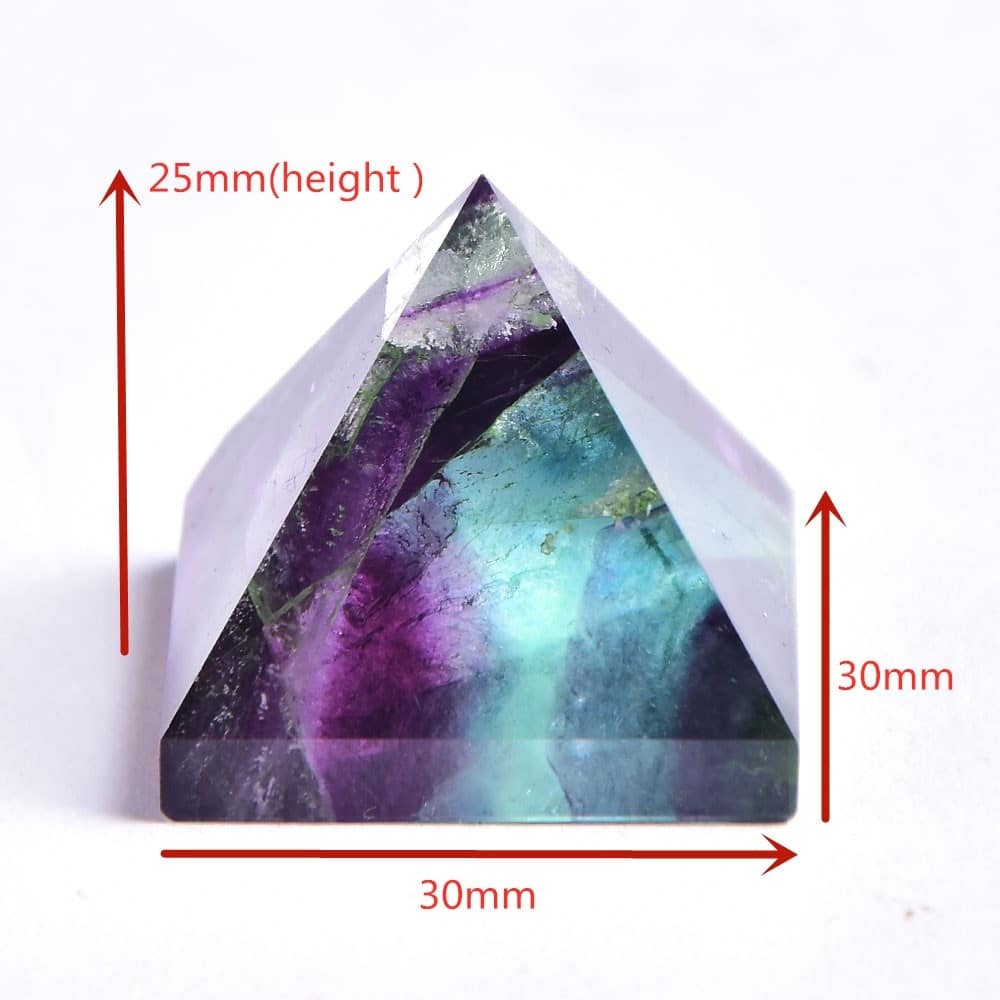 Other information:  The size and weight are measured manually, and there may be a 1~3mm error
Because of the color difference between the light and the screen, the color you receive may be slightly different
Only logged in customers who have purchased this product may write a review.