Wire Wrapped Raw Selenite Stick (Electroplated) with 7 Chakra Tumbled Stones
From: $14.78
FREE Shipping
Please allow up to 30-40 days shipping time as this item will ship to you directly from our supplier.
Free shipping on orders over $100! (US orders only)
Safe, Fully Encrypted Payments
100% Money-Back Guarantee
Fast, Reliable Shipping Options
Easy Exchanges & Returns
Wire Wrapped Raw Selenite Stick with 7 Chakra Tumbled Stones: The Perfect Energy Balancing Tool
Looking for a stunning way to open and clear your chakras? Look no further than this selenite stick with an electroplated rainbow aura. Selenite is a very spiritual stone, and is perfect for all kinds of metaphysical work.  No matter what your needs are, this amazing selenite stick with chakra crystals is sure to help!
Unleash the Power of Selenite and Chakra Stones with the Wire Wrapped Raw Selenite Stick
If you're looking to balance your energy and elevate your space, the Wire Wrapped Raw Selenite Stick with 7 Chakra Tumbled Stones is a must-have. Made from raw selenite and electroplated for a beautiful rainbow aura, this stick is wire wrapped with seven chakra stones, including clear quartz, amethyst, lapis lazuli, green aventurine, Tiger Eye, red agate, and red jasper. Together, these stones create a powerful energy field that can help balance your chakras and promote overall well-being.
Elevate Your Space with the Wire Wrapped Raw Selenite Stick
Not only is the Wire Wrapped Raw Selenite Stick with 7 Chakra Tumbled Stones a powerful tool for energy balancing, but it also makes a beautiful addition to any room. Display it on your desk, nightstand, or meditation space to elevate the energy of your space and promote a sense of calm and relaxation.
Perfect for Meditation and Spiritual Practices
Whether you're a seasoned meditator or just starting out, the Wire Wrapped Raw Selenite Stick with 7 Chakra Tumbled Stones is the perfect tool for your spiritual practices. Its unique design and powerful energy can help you deepen your meditation and connect with your inner self.
Useful for healing, chakra energy work, reiki, meditation, manifestation, concentration, chakra alignment, balancing, energy charged, protection, fengshui, paperweight, home decoration, pocket decor, bookend, amulet, etc. It's the perfect tool to clear your energy field and open your chakras. They can also be used to create energy grids, an ideal gift or a perfect home office ornament display.
About the Powerful Crystals Included
Selenite is a stone of mental clarity. This clarity enhances mental flexibility and enables strong decision making abilities. It can affect everyday life as full mental clarity them. Perfect for any occasion to change your style and mood. It cleanses the energy of the stones. Just ask the universe to take the negative energy and release into the universe and bless it with positive energy!
– Clear Quartz
Clear quartz is known as the master healer, and is perfect for cleansing and balancing all the other crystals.
– Amethyst
Amethyst is a powerful stone that can help with meditation, intuition, and spiritual growth.
– Lapis lazuli
Lapis lazuli is associated with truth and enlightenment, making it perfect for anyone who wants to find their way.
– Green Aventurine
Green aventurine is helpful for promoting positive energy and healing
– Tiger Eye
Tiger eye can increase creativity, willpower, and confidence.
– Red Agate
Red agate is known as a stone of protection, and can help keep you safe from harm.
– Red Jasper
Lastly, red jasper is excellent for grounding and restoring balance in your life.
How Do I Use Selenite?
You can use Selenite in many different ways. To cleanse your aura and space, you can use selenite as you would sage. Comb the crystal up and down your body or room while focusing on an intention and visualizing it sucking all of the negative energy out! Think of it as a quick and easy way to get rid of the bad vibes!
Package Includes:  One (1) Rainbow Color Selenite Stick 2.75-3.54 "(about 20g) and 7 Chakra Stones (tumbled and polished)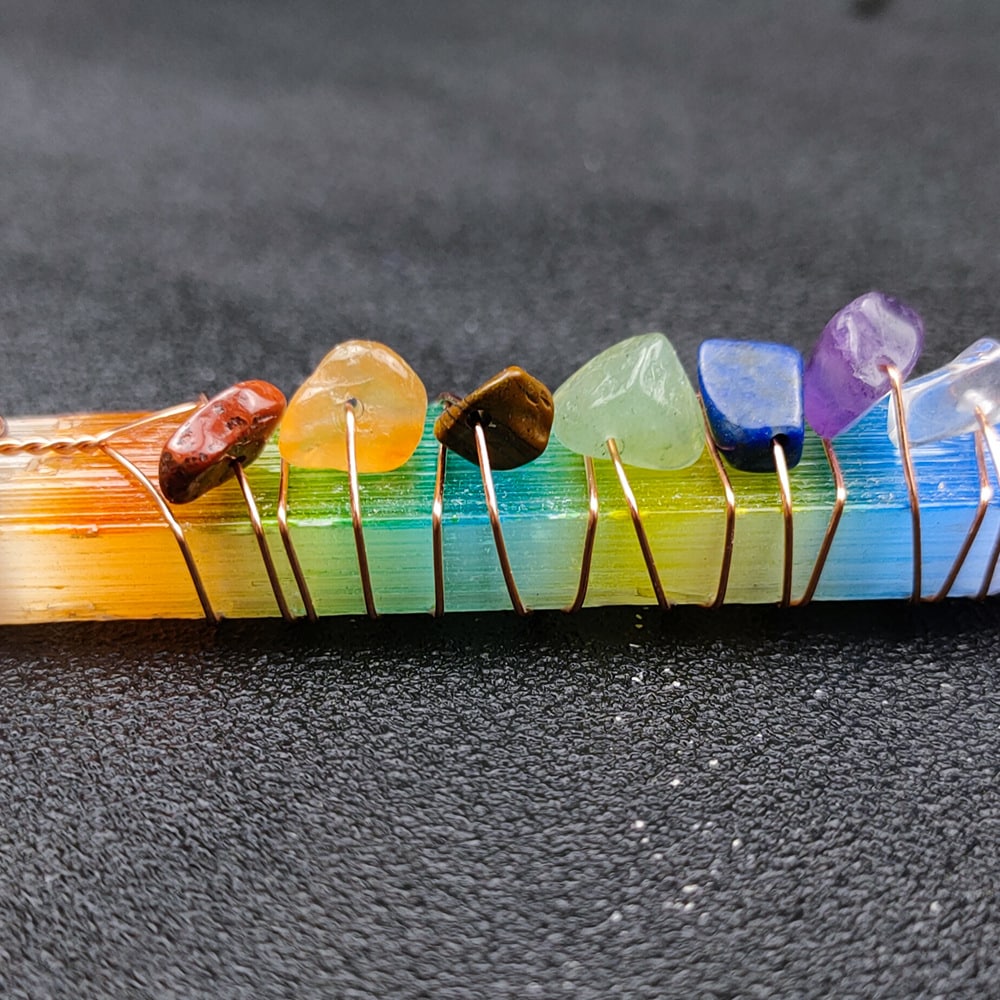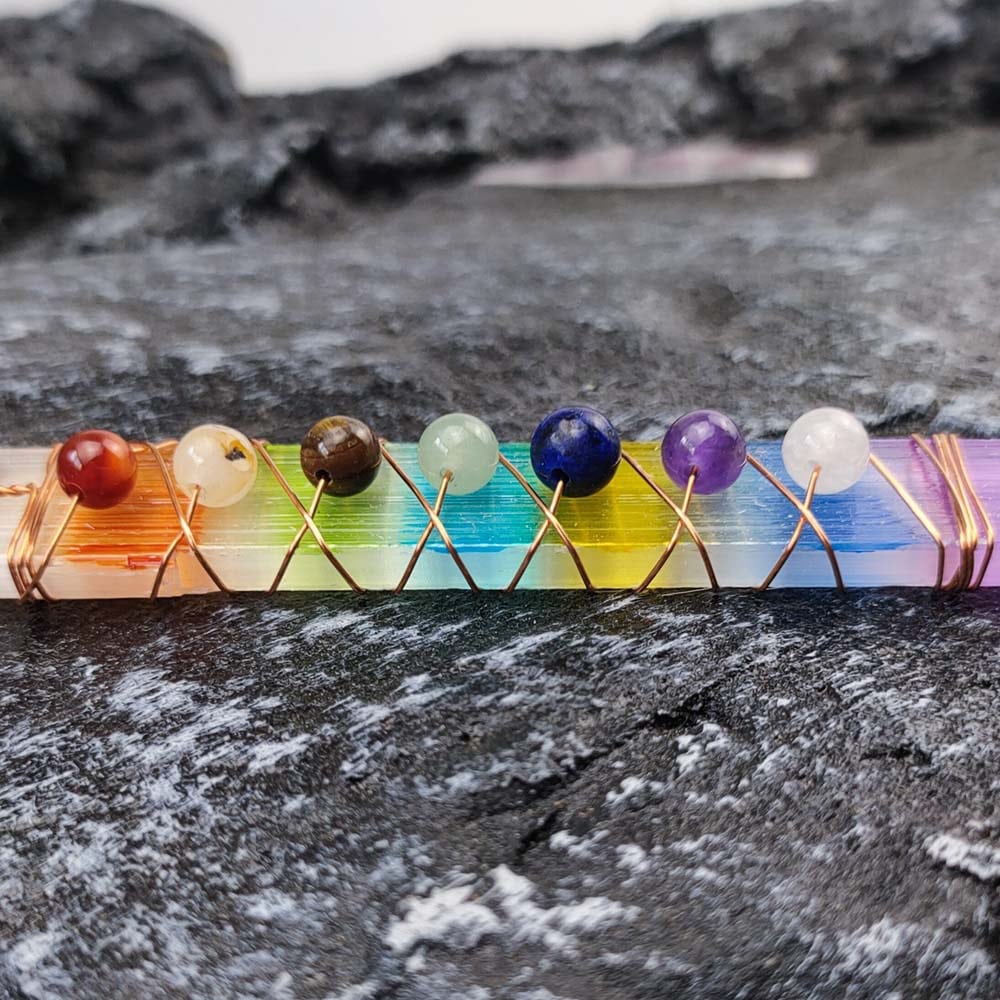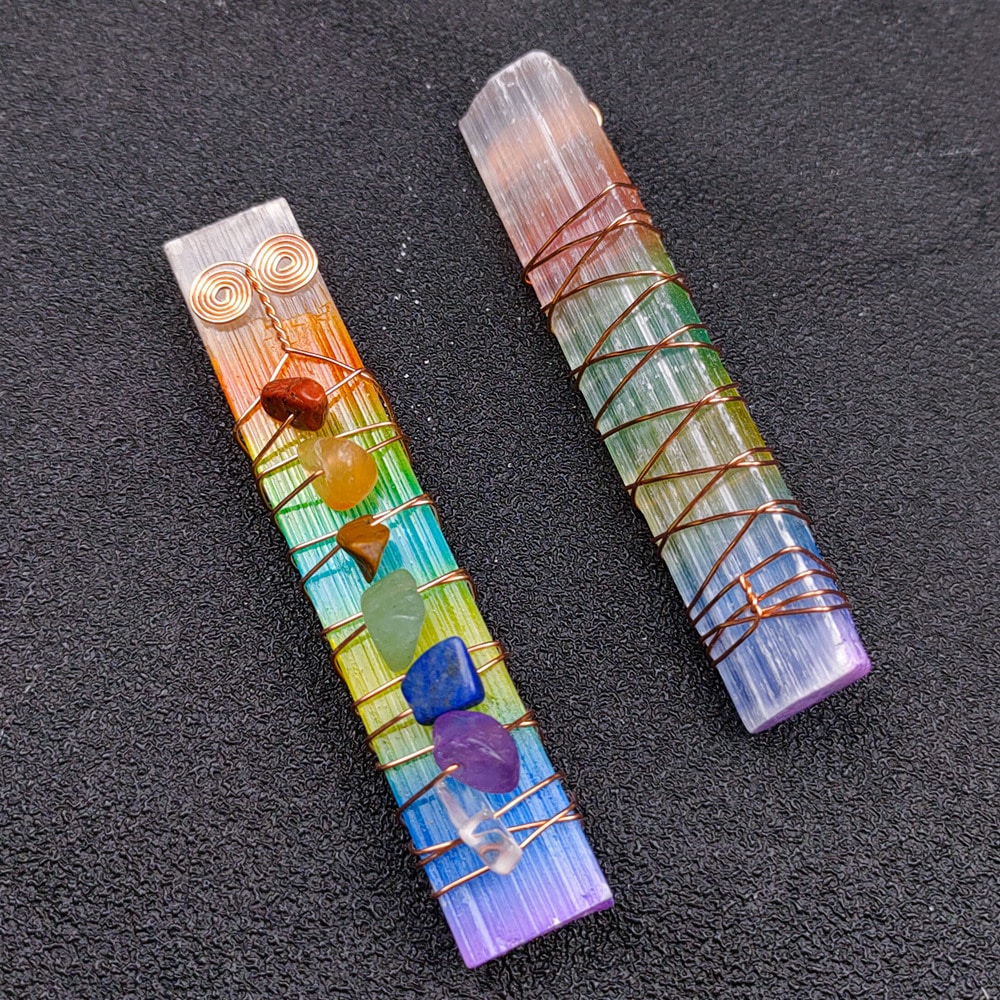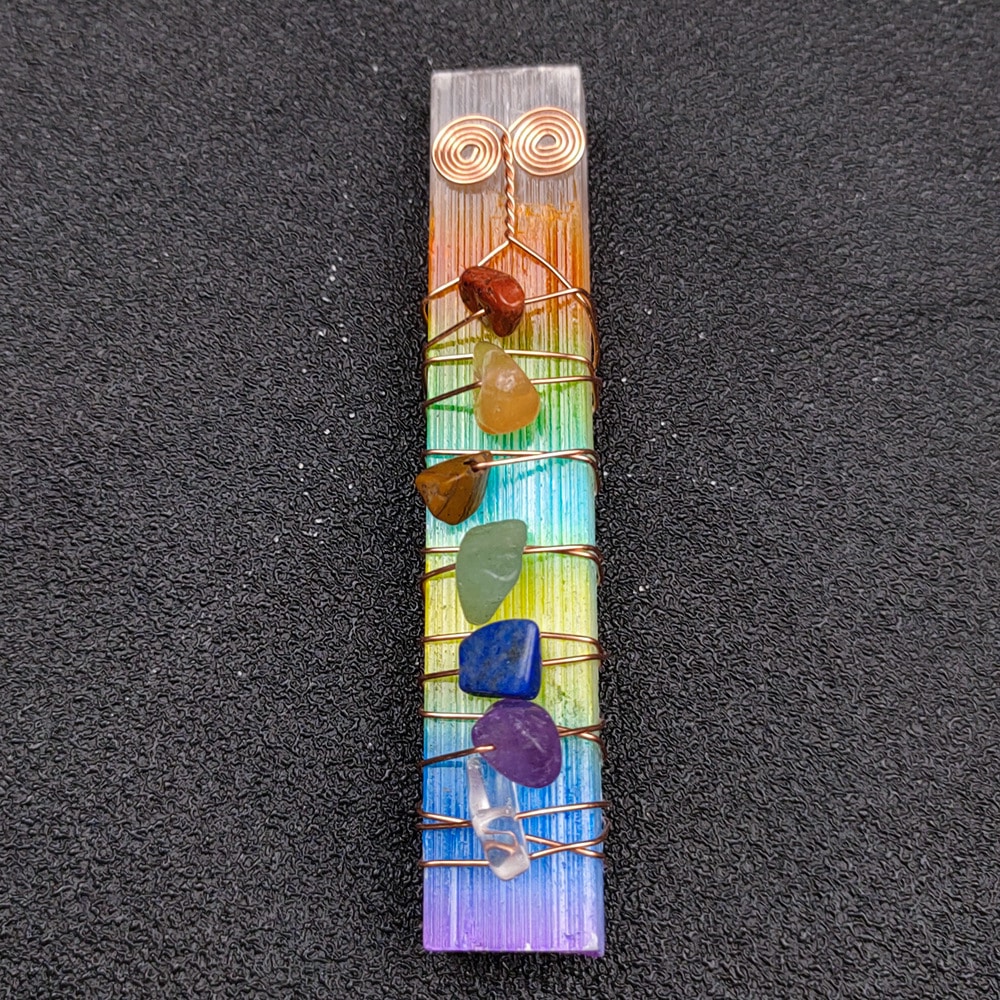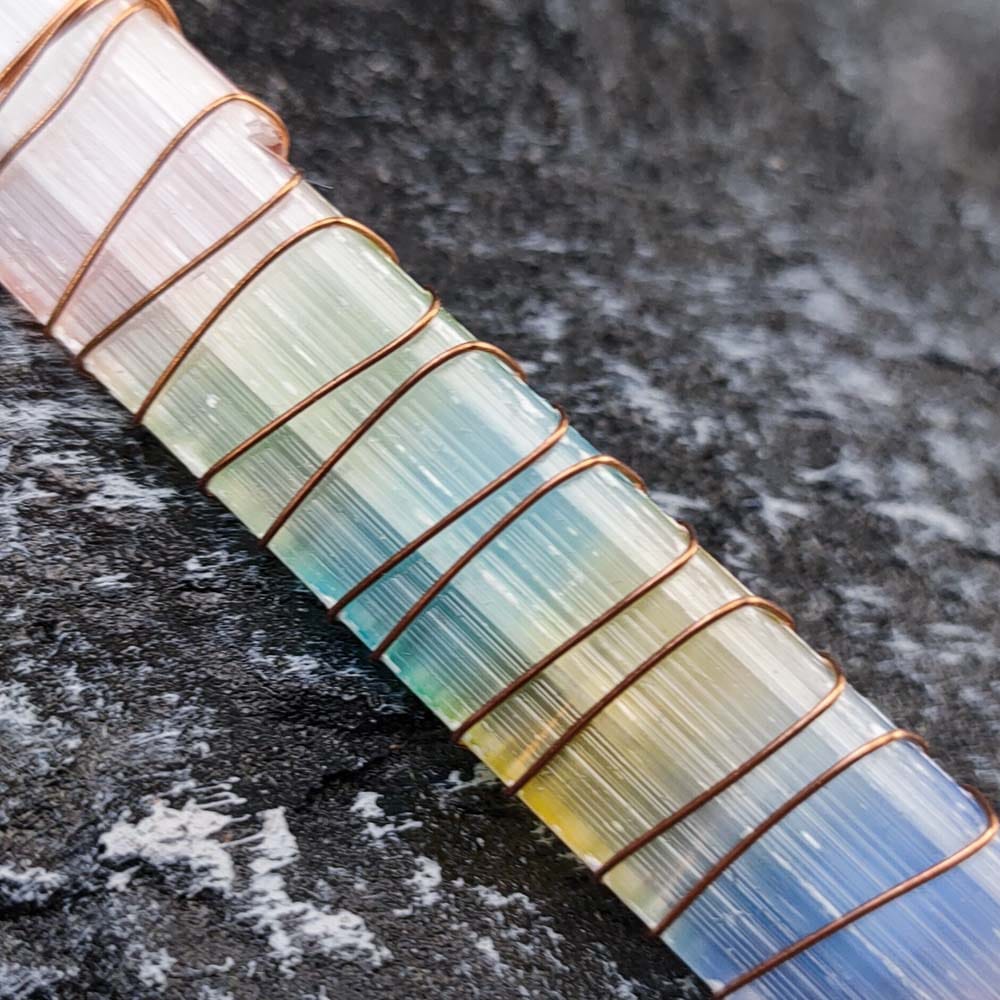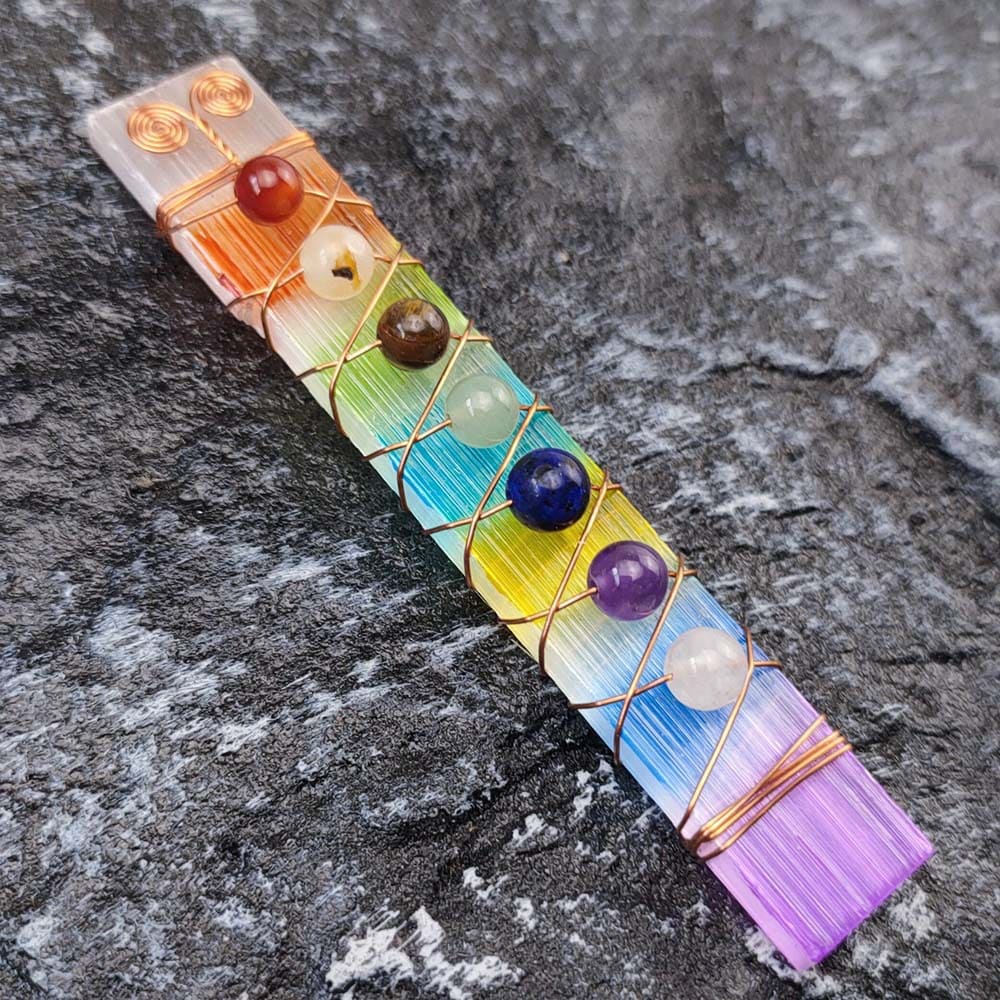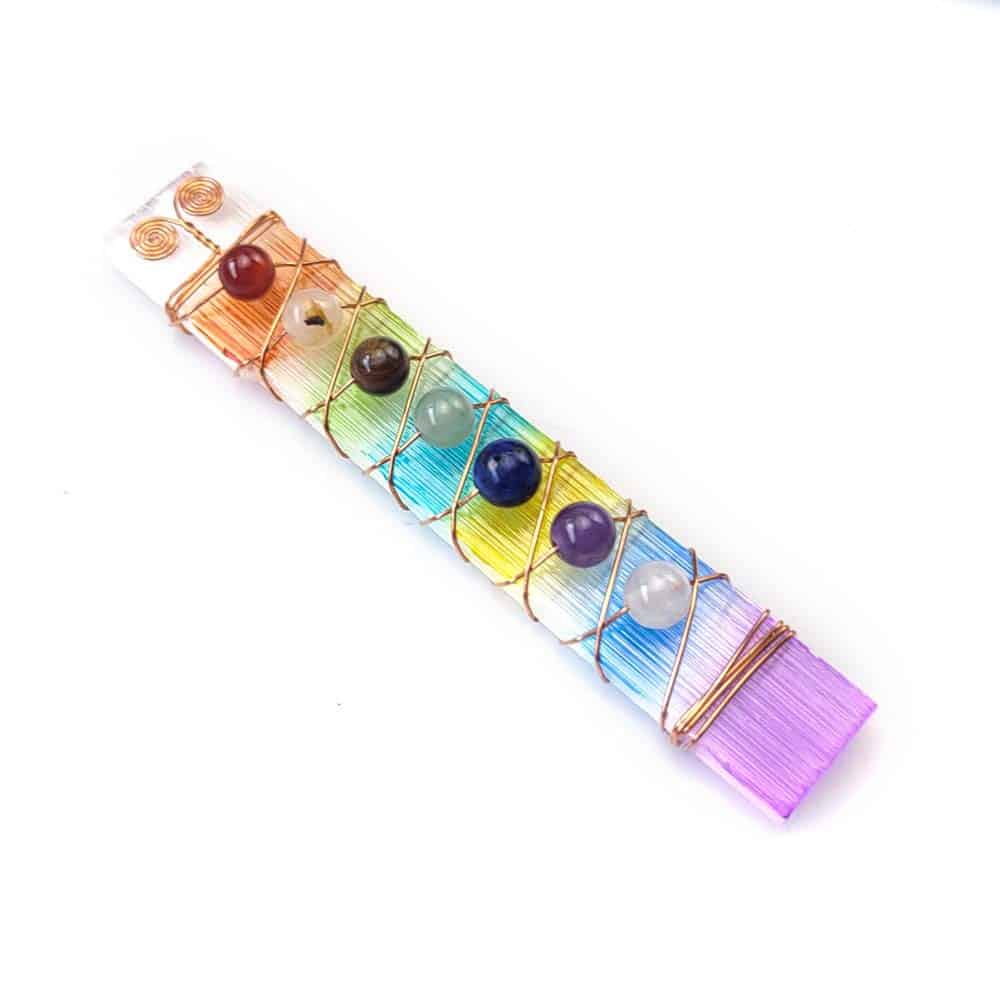 Material: 

Natural Raw Selenite, natural stones, Copper Wire

Category: 

Healing Crystals

Color: 

7 colors, multicolored, rainbow electroplated

Selenite Size: 

70-90mm length, 12-16mm width

Stone/Bead Size: 

As Showed

Weight: 

Approx 22-28g

Applications: 

Healing, chakra energy work, reiki, meditation, manifestation
| | |
| --- | --- |
| Variant | 7 Chakra Chip Stone, 7 Chakra Stone Bead, Set of 2 (Both) |
Only logged in customers who have purchased this product may write a review.